Income disparity squeezed middle class out of Boston's South End
Yawu Miller | 4/30/2014, 9:35 a.m.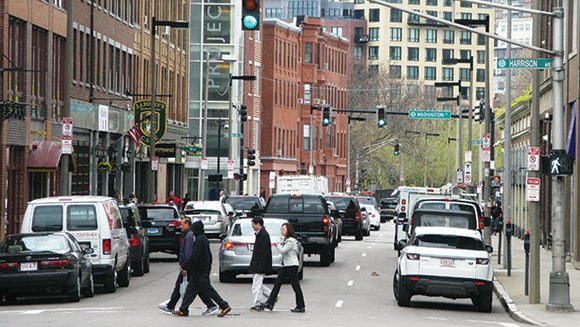 On paper, the South End appears somewhat diverse — 55 percent white, 13 percent Latino, 12.5 percent black and 16 percent Asian. But proximity doesn't necessarily breed community.
"The reality is, the integration in the South End is very limited," says Vanessa Calderon Rosado, executive director of Inquilinos Boricuas en Accion, the Community Development Corporation that owns the Villa Victoria housing development.
The higher income population lives in million dollar duplex condominiums in the neighborhood's brownstones or the slick, steel, brick and glass luxury towers that are proliferating in the so-called South of Washington section of the South End. They shop in different stores and eat in different restaurants.
And because the class divide cleaves along race lines, the polarization is all the more stark. The white South Enders don't show up for the Festival Betances — a street party in the Villa Victoria housing development that regularly features top-notch Latin music stars. The residents of the Villa don't make reservations to eat at Mistral or secure lodgings for their dogs in any of the neighborhood's canine hotels.
Charlie's, the Columbus Avenue sandwich shop, is the last South End commercial establishment where blacks, Latinos and whites mix — or at least share a lunch counter.
"If you ask white people why they moved to the South End, the say they like it because of its location and because it's diverse," Rushing says. "What they mean is that when they walk down the street, they see black people."
In many ways, the middle class in the South End was the social glue that the neighborhood is now missing, according to Price.
"It's ended up being a segregated neighborhood," he says. "It's not as healthy a neighborhood as it should be. There's not as much social capital."
Roxbury
With early signs of gentrification in Roxbury — renewed public and private sector investment and an influx of white homebuyers — it's not hard to see the neighborhood turning into another South End, according to Calderon Rosado.
"Roxbury is moving in a direction we may not want to see," she says.
Calderon Rosado, who sat on Mayor Martin Walsh's transition team and sat through several community meetings on housing, says she's heard the calls for moratoriums on the construction of new affordable housing in Roxbury.
With 45 percent of all housing units in Roxbury designated affordable, it has a higher concentration of subsidized units than any other in the city. While some see the concentration of low-income housing in Roxbury as a bulwark against gentrification, the South End isn't far behind Roxbury, with 41 percent of its units subsidized.
"Affordability doesn't stop gentrification," Calderon Rosado says.
Price suggests proactive policy changes aimed at helping middle-income homeowners, like property tax breaks for elderly homeowners living on fixed incomes, and prioritizing middle income housing — homes that sell for between $275,000 to $350,000 and are affordable to families making $60,000 to $100,000 a year.
"It sounds a little odd coming from a CDC director," admits Price.
With new market-rate single family homes selling for as high as $550,000, Price argues, homebuyers in the moderate income range will have difficulty buying in Roxbury without some level of subsidy.
Price also suggests restrictions on the construction of large luxury developments, like those sprouting up in Chinatown and Downtown Crossing.
"Research shows they're a major contributor to gentrification," he says.
Standing up for the middle class hasn't earned Price many friends. He's caught flak from affordable housing advocates for his advocacy of moderate income units and from market rate proponents for his CDC's construction of affordable units. But without a middle class, Price argues, Roxbury could very well go the way of the South End.
"The South End used to be the same as Roxbury," he says. "Roxbury could become a majority-white community."
The end of an era?
In the South End, the last vestiges of the black middle class are the large, historically black churches that call the faithful in the parking space-starved neighborhood on Sundays for worship. They too are in decline.
"We've lost two churches in the last five years," Rushing notes. "New Hope Baptist and Concord Baptist. They've been made into condos."