Activists rally to stop Massachusetts prison expansion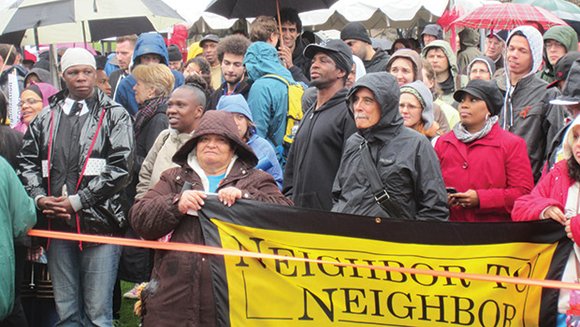 James stressed that state lawmakers must put a stop to legislation that is currently pending to build more jails. "We got it slowed down. We need everybody to stand with us to say: 'We need jobs. We need health care. We need housing. We need education for our children. We need everything, but we do not need more jails," she added.
Several speakers target the criminal justice system and its impact on the state's youth.
"We need to stop feeding the prison-industrial complex. We need to concentrate on our kids from K through 12. They are being sent straight to prison via the criminalization of our youth through discipline and unfair disciplinary action in our schools. Stop suspending our kids, stop arresting our kids. Get the cops out of our schools," said Vira Douangmany Cage, of the Massachusetts ACLU. "Stop arresting our future. Stop arresting our kids."
"If you are asking the white power structure for jobs, that is only a temporary solution," said Ivan Richiez of Youth Against Mass Incarceration. "What we are demanding for, begging for at this point, will not resolve the problem. It only seeks to solve the problem for you and me right now, but not for our children. And as long as we accept a temporary solution, the problem will go unsolved.
"Today we stand here on the Boston Common ground to say that the whole system is entirely flawed. We know it is. We have all the power to address it and to change it," he added. "When this campaign succeeds — and it will — it will be one step towards ending a system that feeds off of inequity, fear and racism."
Larry Turner of EPOCA called for around-the-clock, community-based intervention programs and programs that replace juvenile court and imprisonment to address the criminal justice problem at its root with youth.
The rally also drew out political candidate Maura Healy, who is running for Massachusetts Attorney General. Healy said she was on hand to support prison reform efforts and pledge her action on that regard as attorney general.
"It is so heartwarming to see all of you out here today, speaking out and speaking up for a cause that is so important. I am proud to be with you today and to stand with you today and, as your next attorney general, you will have a partner in that office who will lead on this reform. I promise you that," she said. "I understand what happens when too many lives get embroiled in and cannot get out of a criminal justice system that is not working, that is failing to you, failing our families and failing our communities.
"If we're going to talk about economic inequality; if we're going to talk about closing achievement gaps; if we're going to talk about everybody in this state, every resident having an opportunity for housing education, health care and the like — we can't have that conversation unless we talk about needed criminal justice reform."