Tufts author shines spotlight on '60s activist Stokely Carmichael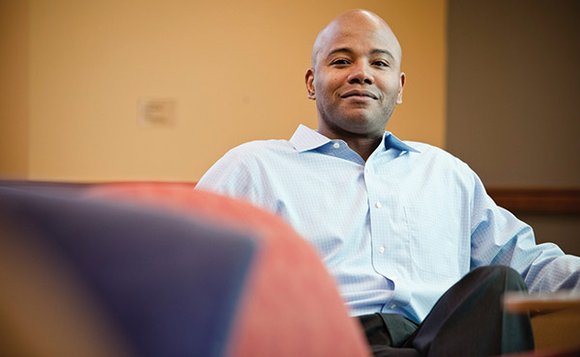 When Peniel E. Joseph was in junior high school, he watched "Eyes on the Prize," the critically acclaimed documentary chronicling the Civil Rights Movement, and discovered a figure he had never heard of before — Stokely Carmichael.
Joseph, a history professor and founding director of the Center for the Study of Race and Democracy at Tufts University, says he "got really interested" in Carmichael after seeing him on television for the first time, and later started reading some of the Black Power activist's writings.
Now, Joseph, one of the leading scholars of the Black Power movement, has written the first definitive biography of Carmichael, "Stokely: A Life," published this year by Basic Civitas Books. Drawing on extensive archival research and nearly 20,000 pages of previously unreleased FBI files, Joseph's 424-page book — which includes more than 50 pages of references and bibliography — provides a lively and engaging look not only at Carmichael's life, but also the movement in which he came of age.
"I thought he was a hugely important, watershed figure who we hadn't heard a lot about," Joseph explains, "[one who] deserves to be recovered historically."
As Joseph details in his book, Carmichael — who was born in Trinidad in 1941, but was mostly raised in New York City — began his activist career "trying to organize for 'small-d' democracy." He entered Howard University in 1960, the same year as the Greensboro sit-ins, and got involved with several civil rights campaigns ignited by the protest at the Woolworth's lunch counter.
In 1961, he joined the Congress on Racial Equality's freedom rides, for which he was imprisoned in a Mississippi jail. Later, as a member of the Student Nonviolent Coordinating Committee, Carmichael organized sharecroppers in the Mississippi Delta, led voter registration drives during Freedom Summer in 1964, marched for voting rights alongside Martin Luther King Jr. in Selma, Ala., and formed the Black Panther Party.
But by 1966, the year he became the chairman of SNCC, Carmichael's political views began to change. The rejection of the Mississippi Freedom Democratic Party at the 1964 Democratic Convention, the assassination of Malcolm X, the slaying of several close friends and brutality against Carmichael himself led him to abandon the "American democratic prophesy." Says Joseph: "He knew how bankrupt American democracy was because he witnessed it first-hand."
During the 1966 Meredith March — named after James Meredith, who desegregated the University of Mississippi in 1962 and was shot four years later during a one-man march across the state — Carmichael delivered his famous speech on Black Power, a controversial slogan that came to represent a new generation of black activists. Carmichael thus became a "bridge between civil rights and Black Power," says Joseph, "who was considered the new Malcolm X but was good friends with Dr. King."
While others had used the term Black Power before, Carmichael popularized it for national and international audiences.
"What he means is radical social, political, economic and cultural self-determination," says Joseph. "He argues that Black Power is the context where black people are defining the movement for themselves without white approval or patronage. That encompasses community control of schools, black studies programs, black student unions, black elected officials, black people having the right to vote, a cultural context where black is beautiful, African American history and redefining black identity to connect it to Africa in a positive way."