Bottom Line extends reach to help 1,000 more students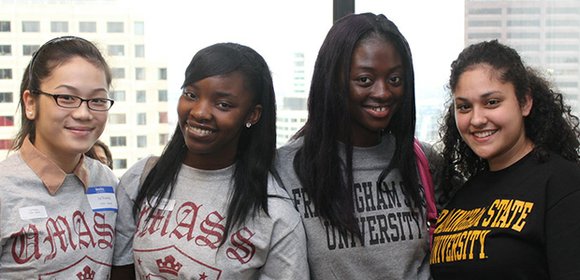 Caruffo's counselor helped cut her list of schools in half and narrow her essay to one topic, helping her get below the 500-word limit.
He also helped Caruffo decide on Clark University. Financial aid was a major factor in the decision for Carrufo, who is paying her tuition alone.
Caruffo's counselor helped relieve financial worry for her by finding the Phillips Scholarship, which Caruffo applied for and received.
The idea for Bottom Line came out of Borgal's experience as a guidance counselor for hundreds of students. Borgal wasn't able to help students with college applications as much as he wished because of time constraints.
"He'd call students a year and two years later, and for a lot of reasons they left school," Wasserman said. "So the idea when he founded the program in 1997 was, we should be available as a resource for the application process [and] also, once colleges start because things come up. There are academic challenges. There's finding a way to connect with professors."
The program for high school seniors and juniors became known as the Access Program and the program for college freshmen the Success Program.
Caruffo attended a small school with one guidance counselor. Tatyana Almeita, 18, of Chelsea, attended Chelsea High School, a bigger school with multiple guidance counselors. But both students had the same problem when it came to seeking help with college applications.
Both experienced what Borgal observed as a guidance counselor, that the counselors' availability to help with college applications was limited.
Almeita said when she asked her guidance counselors to look at her college essays, they'd read them briefly, but she needed the "constant attention" she received from her mentor at Bottom Line.
"I'm so grateful because I was so indecisive. I kept switching my major and switching my college, but [my mentor] kept helping me," Almeita said.
High school juniors and seniors and college freshmen that are interested in Bottom Line can apply for the program at www.bottomline.org