Going All the Way: Theater cast immerses completely in President Lyndon Baines Johnson's world
Susan Saccoccia | 9/25/2013, 12:15 p.m.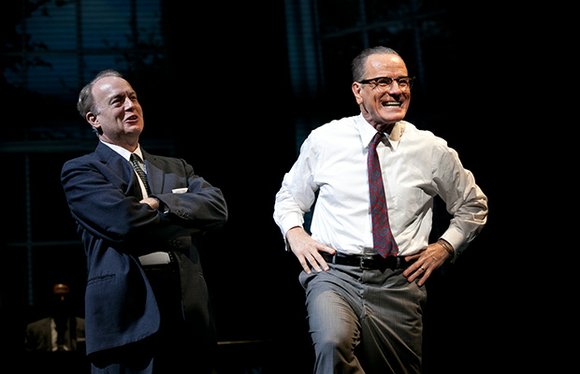 The roles of King and Johnson are the play's only solo parts. Each leader has an iconic wife and a fractious band of supporters. But Brandon J. Dirden's dignified but muted portrayal of King shows more of his frustration than his dynamism.
Johnson's only equal in power within the play's galaxy of characters is his friend, former mentor and legislative adversary Sen. Richard Russell (D-Ga.). Dakin Matthews is a natural as Russell, the dean of Senate conservatives, who spearheads their 75-day filibuster of Johnson's Civil Rights bill.
Only the long-suffering members of Johnson's inner circle readily do his bidding. His top aide, Walter Jenkins, sensitively performed by Christopher Liam Moore, seldom does more than take orders. Johnson rides hard on his prospective vice-presidential running mate, Sen. Hubert Humphrey (D-Minn.), a convincing Reed Birney. Also in Johnson's sphere is a darker ally, FBI Director J. Edgar Hoover, shown conducting his infamous smear campaign against King.
Designed for fast-changing scenes, Christopher Acebo's set employs mahogany benches that stand in for Senate chambers. In the background, video projections by Shawn Sagady switch from a White House view of cherry trees to a hotel bedroom or, like flashbacks on a tragic decade, display archival photos and footage, including the faces of slain Civil Rights workers.
An ensemble cast of 15 actors performs 43 roles, parts that switch between power haves and have-nots. J. Bernard Calloway plays both Rev. Ralph Abernathy and a butler. In one scene, Peter Jay Fernandez is Civil Rights leader Roy Wilkins. In another scene, he is shining white politicians' shoes.
Crystal A. Dickinson's Coretta Scott King and Betsy Aidem's Lady Bird Johnson are ladylike but passive figures.
But Dickinson projects fierce dignity as Civil Rights activist Fannie Lou Hamer. Watching her speak on TV of the brutal beatings she endured in a Mississippi jail, Johnson calls a content-free press conference in the Rose Garden to turn the cameras on him. A video projection shows Hamer's photo in multiples, suggesting that she speaks for countless people. Then the screen goes blank, as Johnson's press event silences her.
Aidem also brings spark to her potent roles, a glamorous Katharine Graham, publisher of The Washington Post, and the forceful Rep. Katharine St. George (R-N.Y.).
Deborah M. Dryden's hardworking costumes aid these quicksilver transitions, recreating '60s styles and coiffed hairdos.
​Deft lighting by Jane Cos captures a politician's fading grin and the taut concentration of Cranston as he trounces a foe or speaks to the audience.
The production compresses Johnson's strenuous campaign with lively expressive shorthand. But the sheer volume of all these fast shifting roles and scenes adds length to the play — three hours with a 15-minute intermission — without always adding depth.
This encyclopedic chronicle of the many battles Johnson had to fight has its cost: the volume and speed of activity keeps the audience at a distance, watching rather than being drawn into characters. But when Cranston's Johnson steps into the light and directly addresses the audience, the intensity of the early scenes returns in full force.
The play concludes as Johnson completes his first year with two victories. On July 2, 1964, he signs the Civil Rights Act, which outlaws racial discrimination but lacks a voting rights provision. On Nov. 3, Johnson defeats Republican candidate Barry Goldwater and wins the presidency with a large popular vote.
Yet to come, and the subject of a sequel by Schenkkan, are his Great Society triumphs, including the Voting Rights Act of 1965, Head Start, Medicare, and expansion of Social Security. Also looming is the Vietnam War, which would obscure his legacy of social justice.
Cranston's electrifying performance shows Johnson as he seized his chance to move the nation forward. Dodging those gleaming knives, he kept his eye on the prize.