Going All the Way: Theater cast immerses completely in President Lyndon Baines Johnson's world
Susan Saccoccia | 9/25/2013, 12:15 p.m.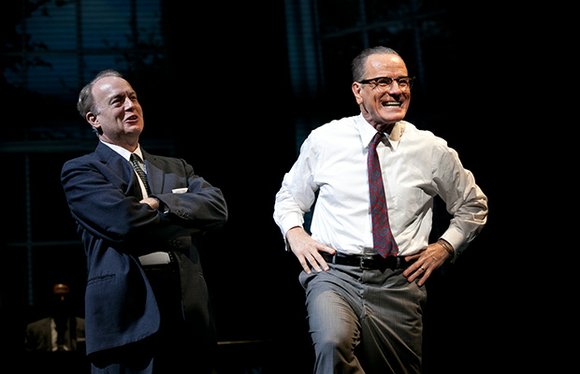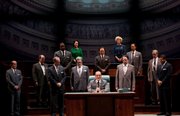 In the stirring first minutes of All the Way, at the American Repertory Theater's Loeb Drama Center in a sold-out run through Oct. 12, actor Bryan Cranston stands in a pool of light and becomes President Lyndon Baines Johnson.
​Multiple Emmy award-winning actor Cranston — a family man turned meth mogul in the cable drama Breaking Bad and the daft but loving dad in the sitcom Malcolm in the Middle — here channels Johnson in one of his finest public moments.
Cranston delivers Johnson's first speech to Congress as president on Nov. 27, 1963, five days after the assassination of President John Fitzgerald Kennedy. In a few words he reassures a shocked and grieving nation and vows to press forward with Kennedy's drive to enact pivotal Civil Rights legislation.
Throughout the play, Cranston projects the fierce resolve of Johnson, whose story, as told by playwright Robert Schenkkan, begins with a tale of childhood fright.
In the play's opening scene, Johnson wakes from a nightmare in which he is a boy hiding in the cellar of his house in Texas hill country during a Comanche raid. "Their knives gleam," he says.
Gleaming knives of a political kind await Johnson during his first year as an "accidental president" determined to become the president of choice in Nov. 1964.
Schenkkan's play follows Johnson through these turbulent 12 months, as he steers his Democratic Party toward a progressive Civil Rights agenda, losing his party's long hold on the South but winning re-election by a wide margin.
The production is directed by Bill Rauch, artistic director of the Oregon Shakespeare Festival, which commissioned the play as part of its American Revolutions: The United States History Cycle and staged its July 2012 premiere. Rauch also directed the Oregon production of the play, which received the first Edward M. Kennedy Prize for Drama Inspired by American History.
All the Way unfolds like a well choreographed ballet, its solos, duets and ensemble numbers all moving to the music of power.
Cranston embodies Johnson's relentless energy and wiles as he woos two opposing camps: conservatives and liberals.
Arm-twisting doesn't begin to describe his tactics. Cranston wields a phone as a weapon, and also goes head to head and eyeball to eyeball with his opponents — threatening the loss of farm subsidies to one; promising a rural irrigation project to another.
As Cranston's Johnson coaxes, cajoles and goads his targets, a pattern emerges: his opponent first gloats over his hold on a precious vote, only to go limp as he hears about the cost of saying no. At first entertaining, the recurring facial tics and body language of these duets become repetitive after a while.
The most enjoyable showdowns are between Johnson and Dan Butler's smirking Governor George Wallace of Alabama. The two use the same folksy language as they taunt each other. Johnson tells Wallace, winner of his state's bantamweight title, "You musta got knocked around in the ring too much … when you was a chickenweight."
The staging draws parallels between the Rev. Dr. Martin Luther King Jr. and the president, two seminal figures who are wary of one another. Johnson wants King to help him get re-elected; but King suspects Johnson of courting black votes with empty promises.