Courtney Vance rides theater skill to Hollywood
Brian Wright O'Connor | 9/25/2013, 11:50 a.m.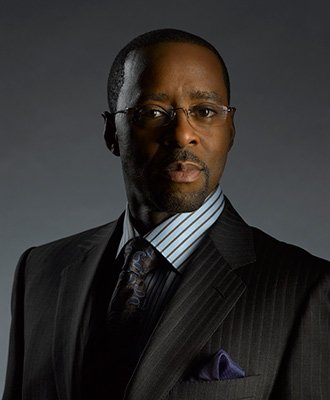 By his junior year, Vance had gone beyond Harvard Yard in search of theatrical opportunity, riding his bike across the Charles River to join the Boston Shakespeare Company. His schedule had him rising at 5:30 a.m. to deliver newspapers, then moving on to classes, rehearsals and homework. "I was doing anything and everything on stage. It had nothing to do with color and everything to do with my interest and passion," said Vance.
The routine proved just as grueling after he polished his craft at Yale Drama School — where he met his future wife, actress Angela Bassett — and started landing roles on the New York stage.
"We think of Broadway as glamorous, but think about doing eight shows a week. How am I to get myself up to what I have to do again and again and again? And what complicates it even more is that life happens on the way to theater. But you discover that your best performances may come when you're tired, when you think you can least do it. The magic happens when you don't think about it," he said, looking to the ceiling and passing his hands in front of his face. "The music starts and whoosh! You're in it."
He compared "the zone" that live performers enter to the honed instincts of professional athletes like the Miami Heat's Ray Allen, who took an inbound pass, turned and sank a three-pointer to tie game 6 in the NBA finals against the Spurs. "Why did he have the ball? Why did Larry Bird always have the ball at the end of the game? Because they're in the gym taking shots two hours before practice begins."
In his first Broadway performance out of New Haven, Conn., Vance played the role of Cory Maxon alongside James Earl Jones in Lloyd Richards' Pulitzer Prize-winning drama Fences. Jones, an accomplished Shakespearean actor who made his mark in popular culture as Darth Vader in Star Wars, played Troy Maxon, the stifling father whose shadow the son longs to escape.
Though schooled in theater at Harvard, Yale and elite acting workshops in the Berkshires, Vance didn't know enough to avoid stepping on theatrical toes. Richards, directing the play, gently pointed out that when addressing Jones, Vance should move downstage and turn his back so that the celebrity star faced the audience.
"'You're upstaging him,' Lloyd told me. The lightbulb went on. So that's what it means!"
Awards, recognition, and new opportunities poured in for Vance after Fences. He won a Tony nomination for his performance as Paul in Six Degrees of Separation in 1991 and wide acclaim for his role as Jim in the The Adventures of Huckleberry Finn. By then, he had begun moving from the stage to film roles, including in 1990 The Hunt for Red October and his first appearance in Law and Order. He also played the Rev. Henry Biggs in the 1996 movie The Preacher's Wife with Whitney Houston and Denzel Washington.
In 1997, he and Bassett married. They are now the parents of 7-year-old twins.