Groups seek signatures for earned sick time and higher minimum wage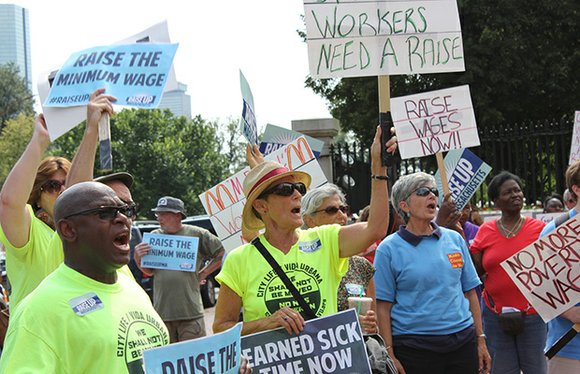 Raise Up Massachusetts is also looking to enact an earned sick time benefit that would give those who work for companies of 11 or more employees the ability to get five paid sick days a year and five unpaid sick days for those working for smaller companies.
Earned sick time gives workers the time to get preventative care such as doctor's appointments, eye exams and yearly physicals. States and municipalities that have implemented earned sick time have seen job growth, and most employers report no negative impact on their profitability.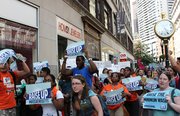 Raise Up Massachusetts has an office on Mount Vernon St. in Dorchester and is pushing its drive to collect signatures out into the community.
Finfer emphasizes that it will take help from many volunteers in order to get the signatures needed.
Officially, the petitions need 68,000 signatures of registered voters each to go to ballot, but because the signatures have to be checked and validated the standard is to get to 100,000 to ensure the minimum is met.
Finfer says that Raise Up Massachusetts is asking organizations to set a goal to collect a specific number of signatures before Nov. 20, with efforts kicking off all over Boston this past weekend.
Religious organizations and places of worship will play a big part, as will volunteers at stores and other high traffic destinations. Signatures will also be collected at the election polls on Sept. 24 and Nov. 5.
"There is a big effort to be made to get people to work on this," said Finfer. "It will just keep growing and a lot of people are making commitments.
"Any individual can get petitions and get signatures in their circles," he added. "There has to really be that kind of grassroots, bottom-up effort to be successful."
While collecting 200,000 signatures in less than three months may seems like daunting task, Finfer is hopeful. "There are not too many vehicles where you could help a million people get better wages," he said.