Candidates hit the streets in close, crowded Boston mayoral race
With no clear winner, many voters are still undecided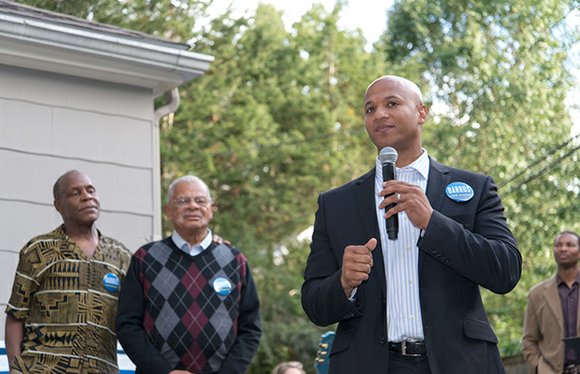 Those numbers are a far cry from Menino's last election in 2009, in which he earned 63,123 votes to beat challenger Michael Flaherty by about 17,000 votes. But then again, Menino is the only Boston politician who can claim to have met more than half of Boston's 625,000 residents
Of the 12 candidates, John Barros has quietly emerged as a person to watch. His story has received a fair amount of attention but it merits closer scrutiny. While no one is predicting a Barros victory this time around, some political observers suggest that he has a bright future.

At 17, Barros was the first-ever youth elected to the Dudley Street Neighborhood Initiative (DSNI) Board of Directors. Even as a freshman at Dartmouth College in New Hampshire, Barros continued to speak up for the needs of young people in Roxbury and Dorchester.
While at Dartmouth, Barros accumulated valuable experience as the President of the African American Society and as a member of the Casque and Gauntlet Senior Society, an organization that "unites those who have strong character and high ideals, encourages members in worthy activities, promotes their mutual welfare and happiness and renders loyal service to Dartmouth College."
Upon graduation, Barros landed a position at the Chubb Group of Insurance Companies before assuming an even larger role at DSNI, becoming its vice president while simultaneously serving as the vice president of the community land trust Dudley Neighbors, Inc., an organization committed to the development of permanent affordable housing.
Ultimately, Barros would be asked to lead the organization that he first served as a 14-year-old volunteer, becoming DSNI's executive director following a three-month stint as interim executive director. It is a position that he has held since the 2000, and it ranks highly among the many experiences that he believes will be invaluable should he be elected as the City of Boston's next mayor.
"I was born and raised in Roxbury," Barros said during a recent interview with The Banner. "During the height of gang activity back in the 1990's, I was introduced to DSNI and it was really an eye-opening experience. It showed me how much of a contribution I could make to my neighborhood and to society in general. I think we all have a role to play in improving the communities — the city — that we live in and love."
Drawing on this multitude of experiences, which also include more than three years on the Boston School Committee, Barros believes that he is a uniquely qualified candidate.
"No other candidate has worked on the breadth of services that I have," said Barros. "I have deep experience in affordable housing, youth empowerment programming, small business development, education. I've managed complex community-revitalization organizations. As mayor, I would take the work that I've done and expand it to scale in the neighborhoods of Boston."
Though well aware of the lower name recognition that he carried into the race against some of the more high-profile mayoral hopefuls, Barros is confident that quality can trump name recognition if given a chance.
"There's no question that the early polls showed that I didn't have the name recognition and that Boston voters didn't know me," admitted Barros. "What they also showed, however, is that voters haven't really committed, in many ways, to the candidates who are already holding political office."