Campaign Note: Coakley runs for governor; Richie gets key endorsements; Election Commissioner warns of fake phone polling; Mayoral candidates debate City Hall move
9/18/2013, 11:42 a.m.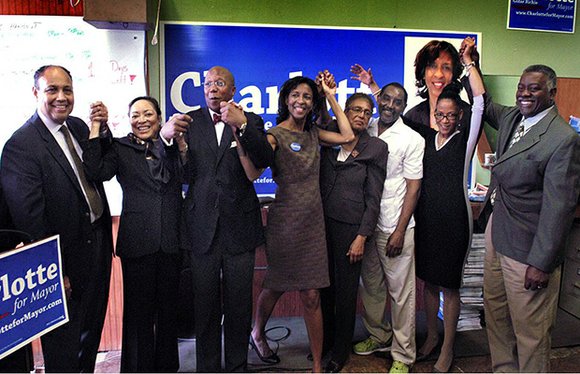 Election Commissioner warns residents of fraudulent phone polling claiming to be from the Boston Election Department
Geraldine Cuddyer, chair of Boston's Board of Election Commissioners, reminds all voters that the Election Department does not conduct any kind of telephone polling or surveys of voters.
"It has been brought to my attention over the weekend that voters are receiving telephone calls regarding voter preferences. The callers are identifying themselves as being from the Boston Election Department," Cuddyer said. "Voters should be aware that any caller conducting a survey and claiming to be Election Department personnel is engaging in fraudulent behavior."
Cuddyer said the Election Department staff is getting ready for the historic Sept. 24 Preliminary Election in which 12 candiates are running to fill the seat held by Mayor Thomas Menino. In addition, 61 candidates are vying for open seats on the Boston City Council.  
"The Election Department prides itself on conducting fair and impartial elections," Cuddyer said, "and I take great offense at anyone misusing the department's name."
Mayoral candidates tussle over moving City Hall
Standing in front of the run-down Leon building, former City Councilor Mike Ross blasted State Rep. Marty Walsh's proposal to bulldoze City Hall and City Hall Plaza, saying it represented a fundamentally flawed vision.
"The citizens of Boston are hungry for bold new ideas, not just another conversation about moving City Hall," Ross said in a release. "The next mayor can't just be focused on building big buildings and downtown development. The next mayor needs to be focused on growing our neighborhoods and building more transit-oriented development and affordable housing."
Ross' criticisms came after Walsh announced his proposal for developing downtown Boston. He called for the sale of City Hall Plaza to a private developer and suggested moving City Hall to a new private development in the areas near Downtown Crossing, the Financial District and Government Center.
Walsh said the sale of City Hall Plaza is expected to generate $125-150 million in one-time revenue. That 4.5 acre parcel would also be added to the tax rolls, generating an additional $10-12 million annually.
"By creating this one-time large infusion of revenue,and returning one — if not two — large public parcels of land to the tax rolls, the city will be positioned to pay for many of the services citizens have told me they want," Walsh said in a release.
But Ross said that instead focusing on City Hall, the should be talking about places like the Leon building, which he called an "eyesore and a drain on this community for years."
The Leon Electric Building, a 50,000-square-foot underutilized warehouse complex, sits next to the Uphams Corner station on the Fairmount line of the MBTA Commuter Rail. The building is considered a prime candidate for development into a mix of offices, retail space and housing — with some even proposing connecting it directly with the Commuter Rail station.
"Boston is booming, but not all of our neighborhoods are sharing in that boom," Ross said. "For Boston to truly take the next step forward we need to bring economic opportunity into the neighborhoods that haven't seen it.