Campaign Note: Coakley runs for governor; Richie gets key endorsements; Election Commissioner warns of fake phone polling; Mayoral candidates debate City Hall move
9/18/2013, 11:42 a.m.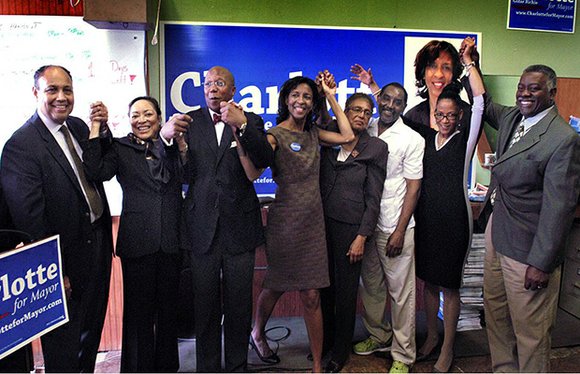 Attorney General Martha Coakley joins crowded governor's race
Mass. Attorney General Martha Coakley, undaunted by her lackluster campaign against Scott Brown in 2010, launched her bid to become the next governor.
In a campaign video posted on YouTube, Coakley cited her loss in the race for the seat left vacant by the death of U.S. Sen. Ted Kennedy (D-Mass.).
"I know what it's like to lose a race, I know how hard it is," Coakley says in the video, released Monday.
Coakley also made a formal announcement on Monday in her hometown of Medford.
"I think that I am ready to both lead and listen to people in Massachusetts about what they want. I know they want to continue moving the economy forward, giving people economic opportunity, improving our educational system," Coakley said in published reports."I'm going to do that as governor."
Coakley, a Democrat, has reportedly been weighing a 2014 gubernatorial bid for months. Massachusetts Gov. Deval Patrick (D) has said he will not seek a third term in the statehouse.
Coakley has served as the state's attorney general since 2007. Several Democrats have already jumped into the race, including State Treasurer Steven Grossman and former Homeland Security Assistant Secretary for Intergovernmental Affairs Juliette Kayyem. Rep. Michael Capuano (D-Mass.) is also expected to make a decision soon on whether he will run. Former Obama administration health-care official Donald M. Berwick and biotechnology executive Joseph Avellone have also announced their plans to run. Mass. Sen. Dan Wolf has suspended his campaign while dealing with conflict-of-interest questions stemming from his ownership stake in Cape Air.
On the Republican side, Charles Baker announced his candidacy earlier this month. Baker previously ran for the office in 2010. Independent candidate Evan Falchuk is also pursuing the office.
"I know it's going to be a long hard, primary. I welcome that," Coakley said of the governor's race.
Charlotte Golar Richie receives key endorsements
A group of highly regarded dignitaries, preachers and civic, community and business leaders endorsed Charlotte Golar Richie for mayor, citing her ability to lead an administration that will focus on preparing residents for job opportunities in the 21st-century economy.   
Among them were former U.S. Ambassador to Tanzania Charles Stith, former Transportation Secretary Richard Taylor, Judge Joyce Alexander London, former WBZ-TV reporter Sarah Ann Shaw, Ward 12 Democratic Committee Chair Victoria Williams, University of Massachusetts Boston senior lecturer Tony Van der Meer, community activist Horace Small and Boston Public Schools Committee member Alfeda Harrison.
"Charlotte appreciates our potential and she will keep the promise and make our communities better places and ensure a brighter future for our children," said Ambassador Stith.
Richie is the former chief of housing and director of neighborhood development for the City of Boston. A former state representative, Richie served as an advisor to Gov. Deval Patrick.

Among the prominent ministers were Eugene Rivers, A. Livingston Foxworth, Frank Kelly, Gideon Thompson, Othon O. Noel, Chris Sumner, Gerald Bell, Matthew Thompson, Wesley Roberts, Willie James, Ego Ezedi, Chris Womack, Ellis Washington, Evan Hines, Frank Murray, Jeffrey Brown, Liz Walker and Miniard Culpepper.