In their eyes
Arab women photographers lift the shroud of the Muslim world
Susan Saccoccia | 9/12/2013, 6 a.m.
In her 1996 installation, Iraq-born Londoner Jananne Al-Ani treats the veil as a fact rather than a symbol of oppression. On opposite walls, two large photographs show Al-Ani and four female relatives seated in a row. Cloaked in gradual stages of concealment, they stare at the viewer.

Shadi Ghadirian of Tehran juxtaposes images of old and new in a 1998 group of gelatin silver prints. In warm, vintage tones, the photographs portray young women in 19th century European-style studio backdrops. While dressed in traditional clothing, they listen to a boom box, hold a Pepsi and read a banned newspaper. Her 2008 series "Nil, Nil" is a set of painterly color prints that display bullets and grenades in fruit bowls, handbags and bedding.
Nermine Hammam, who lives in Cairo and London, takes the art of unexpected juxtapositions even further. She photographed young soldiers on duty in Tahrir Square during the January 2011 uprising. In her prints, she places their photos in candy-colored settings — bucolic alpine scenes and flowery verandas. With poignant humor, her incongruous images reflect the strangeness of violence and war.

 Street photography by Tanya Habjouqa of East Jerusalem portrays scenes of defiantly ordinary joy in Gaza, a seaside enclave of Palestine isolated and attacked by its neighbors Egypt and Israel. Giddy girls, their hijabs flapping in the wind, enjoy a boat ride. In a photo of a family relaxing at the beach, the baby looks at the photographer.
In Egyptian Rana El Nemr's 2003 series "The Metro," the streamlined geometry of trains frames the women and their traditional garb. Human subject and setting also have equal weight in the 2009-2012 series "A Girl and Her Room," portraits of young women in the Middle East by Beirut native Rania Matar, who lives in Brookline.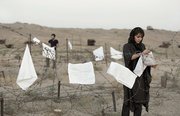 The wonder of this show is the way it brings together artists who are inventively using the medium of photography to make unseen or overlooked experiences visible — including scenes of joy, growth and change, as well as oppression and loss.
Rula Halawani in East Jerusalem blows up her negatives of the 2002 Israeli incursion into the West Bank to create ghostly images of human suffering and charred ruins.
 Jananne Al-Ani traces the human imprints on landscapes of the Middle East, using aerial photography to capture contours of roads and buildings that emerge as shadows in the late-day sun. As the plane engine drones, her video shows the curves of long-abandoned desert roads, as ornate as Farsi script.