Swinging for the fences: 'The Base' uses sports to push student athletes to excellence on the field and in the classroom
Martin Desmarais | 9/11/2013, 1:37 p.m. | Updated on 9/11/2013, 1:37 p.m.
"If I can make academics a mandatory aspect to play in my program, we have something," Lewis says. "I want to give our kids all the tools that they need to be successful."
But with The Base, Lewis acknowledges that just winning on the ball field is not enough.
"Now what I need to do is up their GPA in school," Lewis says. "I need to let them know that those great skills and talents they have need to be applied. I need them to know that the three Ps — preparation, practice and performance — is not just on the field."
Lewis' overall goals for The Base are focused on the issues plaguing black and Latino males, such as the 55 percent and 51 percent four-year public high school graduation rates. He has pledged that the graduation rate for his organization's athletes will be 90 percent by 2017.
He also has the goal of sending at least 80 percent of its athletes to college or job-certification programs. Further, he says that at least 60 percent of The Base's student athletes will graduate from two- or four-year colleges.
Lewis launched The Base at the start of this year after spending several months working on his plans for the organization. He has very ambitious fund-raising goals for the nonprofit – $12 million dollars in the next five years. He already has the backing of Grand Circle Travel owner and Chairman Alan Lewis, who pledged $2 million.
He also has the support of an impressive list of individuals and organizations, including Harvard Law School Professor Charles Ogletree Jr., the Whittier Street Health Center, College Bound Dorchester, uAspire, the Latino Professional Network, The Boston Foundation, former CEO of Timberland Jeff Swartz, Ron Walker, II, of Next Street Financial, National Black College Alliance, and WilmerHale LLP.
In addition to baseball, Lewis has worked in the civic, community and nonprofit fields. He has served as executive director of the Boston Centers for Youth and Families, president and executive of the National Conference for Community and Justice, senior vice president of City Year's national operations and executive director of City Year Boston, director of community initiatives for the Boston Housing Authority and founder and first director of the Streetworkers Program for the Boston Community Centers. 
Lewis was most recently vice president for programs at the Boston Foundation, where he oversaw $16 million in grant money. During his time with the Boston Foundation, he helped launched two major initiatives.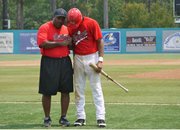 The first was StreetSafe Boston which has a mission of dramatically reducing gun violence in the city by working directly with known offenders in the neighborhoods most affected by street-level violence.
The second was CHAMPS Boston, which promotes positive youth development through sports by training coaches, providing donated sports equipment and uniforms, refurbishing fields and investing in youth sports programs throughout the city.
Since he launched The Base, Lewis says he has had many people ask him why he gave up a great job at the Boston Foundation. Lewis says he doesn't look at it that way. "I feel like this is the promotion," he says. "I feel privileged."
"My biggest goal is I want to revive and revitalize urban baseball in America," he explains. "I want urban baseball to be a vehicle that is going to shift the trajectory of all of our kids. Every kid deserves to be educated, safe, healthy and warm. Period. That is the moral basic standard."