In the Mix 09/12/2013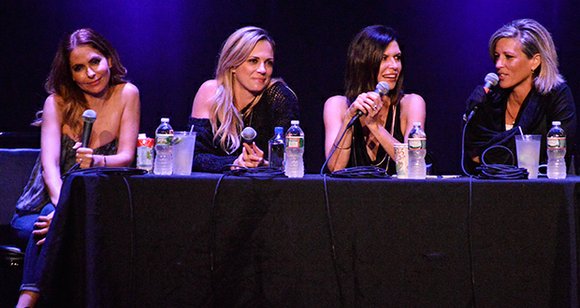 Bearden, Biggers and Jones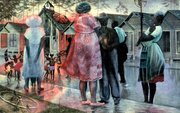 Kudos to the Peabody Essex Museum's recent exhibit In Conversation: Modern African American Art. The exhibit was colorful and rich with paintings, photos and sculptures of black life in the twentieth century, including such artists as John Biggers, Romare Bearden and Loïs Mailou Jones, as well as the legendary photographer Gordon Parks and many more artists. The works recorded the African American experience from the Harlem Renaissance and the Civil Rights Era to present day and wove a story about rich culture and heritage.
Ladies of General Hospital
Daytime soaps are so different from other television shows. Audiences become involved in another world and emotionally attached to the characters. Viewers experience a range of emotions: happiness when star-cross lovers finally marry, or indignant surprise when a character is killed and leaves the show. Those who came to the Wilbur Theatre to see them on Sept. 8 got to watch Carly, Anna, Kate and Olivia up close and in person. The ladies were a hoot as they discussed their characters and told stories about their backstage antics, fielding questions from the mostly female audience. To the fans it was just another day in Port Charles.
Tea at the Taj
Overlooking Newbury Street, the Taj's opulent French Room is bathed in warm lighting from the chandeliers along with the natural lighting shining through the draped windows. Saturdays and Sundays from 1:30-3 p.m., then again from 3:30-5 p.m., guests dressed in their Sunday finest eat from the fine china filled with an assortment of sandwiches, pastries, petits fours and scones served with a refreshing lemon curd. The Taj supplies an absolutely delightful way to retreat, at least momentarily, from the hustle and bustle of daily life.
Coming Up
New England Patriot Jerod Mayo hosts the Fourth Annual Mayo Bowl on Monday, Sept. 16, at Kings in Legacy Place. This star-studded bowling event and VIP party will benefit Pitching in for Kids and Boston Medical Center. The evening will include hors d'oeuvres along with a live and silent auction. Tickets are $85 at www.wepay.com/events/161246.
For three days, beginning on Sept. 19, WGBH presents its Taste of WGBH Food and Wine Festival 2013 at the station's studios with 25 unique food stations showcasing the cuisine of local chefs paired perfectly with selected wines. Admission costs $30-150.
The brothers behind the company Life is Good are back with another two-day fundraising festival taking place Saturday, Sept. 21, and Sunday, Sept. 22. The two-day event features Jack Johnson, Daryl Hall and John Oates, The Roots, Amos Lee and many more performers and family activities. For a schedule of events and ticket prices, visit www.lifeisgood.com/festival.
On Monday, Sept. 23, Symphony Hall plays host to the "Mission Gratitude" fund raiser to benefit the Home Base Program, featuring performances by Sarah Silverman, Rita Wilson, Darrell Hammond and The Band Perry. For tickets and additional information, go to www.missiongratitude.com.
The annual Men of Boston Cooking for Women's Health fundraiser to benefit the Codman Square Health Center returns on Sept. 26. For more information, visit www.menofboston.com.
If you would like Colette Greenstein to cover or write about your event, email inthemixwithcolette@gmail.com.