Boston Public Schools launch bullying prevention text hotline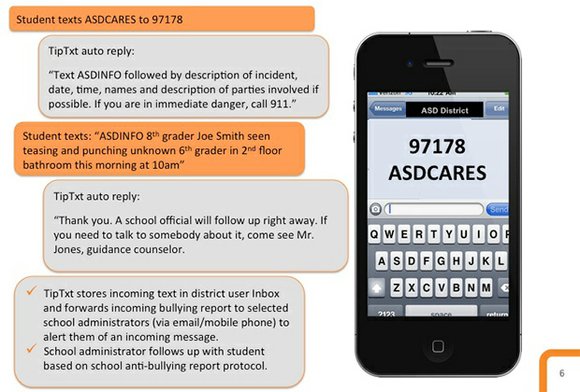 A key part of bullying prevention is not just dealing with bullies and victims, Eglee explains. She points out the bystanders have power to stop bullying. Bullying education always pushes students to be "helpful and active bystanders."
Statistics show that 85 percent of the kids that go to school want to do the right thing and help stop bullying, while only 15 percent are bullies or show antisocial behavior, according to Elgee.
"Unfortunately, it is very often the minority who sets the tone," Elgee said. "What we are trying to do is enable and empower the majority of kids to do the right thing. "When you talk to kids about bullying most kids will say they know it is wrong. What they don't realize is that not doing anything is allowing the bully to have more power. … We don't want kids to put themselves in jeopardy in any way, but there are lots of ways that kids can stop it."
Administrators have some suggestions for students that witness bullying: don't laugh, tell an adult, be friends with a target of bullying and tell a bully to stop.
BPS runs a program called "Saturdays for Success" for students involved in bullying incidents, including those who were bystanders to bullying. It is a 32-hour program run for four hours over eight Saturdays.
The new bullying prevention text hotline is made possible by Blackboard Inc.'s TipTxt, a two-way texting service for schools. The Washington, D.C.-based Blackboard is provider of technology products to schools.
In May, Blackboard offered TipTxt free to all K-12 schools and districts in the United States. According to the company, it did so to help address the nationwide dilemma of bullying in schools.
"To us at Blackboard, we are not only a technology vendor to K-12, we are also part of the community and we want to help address issues and bullying is a huge issue," said Jay Bhatt, chief executive officer of Blackboard. [We offered it for free because] we felt it aligned with our mission to help schools use technology to tackle the biggest issues they are facing."
According to Bhatt, hundreds of schools and dozens of school districts have signed up to use TipTxt for the 2014-2015 school year. He said BPS is the biggest school system yet to use the system.
"Ensuring the safety and wellbeing of our students is a top priority and essential to our mission of accelerating students' academic achievement," John McDonough, interim superintendent at Boston Public Schools, said in a statement.
Boston Public Schools' TipTxt number is (617) 765-7125. The BPS Bullying Prevention Hotline is (617) 592-2378. For more information about BPS bullying prevention efforts, visit bostonpublicschools.org/antibullying.