Workers march on Harvard, Cambridge College for better jobs, benefits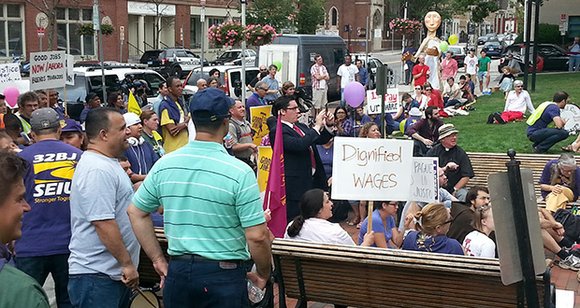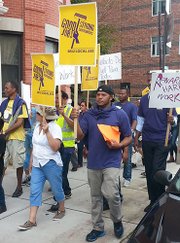 Several hundred workers and supporters marched from the steps of Cambridge City Hall to Cambridge College and then on to Harvard University on Labor Day.
Organizers said the event was meant to honor workers but also to remind employers that quality jobs and benefits have a direct effect on quality of life in the Boston community.
"Today, as we celebrate and honor the work of so many workers that came before us, we also honor ourselves for continuing this fight," said Rocio Saenz, leader of 32BJ Service Employees International Union (SEIU) New England District 615.
The march was organized by 32BJ SEIU, which is the largest property services union in the country with more than 145,000 members, including 18,000 in Massachusetts, Rhode Island and New Hampshire.
After a rally and a number of speeches at Cambridge City Hall the march proceeded to Cambridge College to protest against the college's security services contractor, Longwood Security. According to 32BJ SEIU, non-union contractors such as Longwood threaten industry standards for wages and benefits.
The march ended at Harvard University, where marchers joined with students from Harvard Medical School to rally at Harvard Yard against announced cuts to janitorial staff at the school, which will begin in mid-September. The Cambridge City Council recently passed a resolution urging Harvard Medical School to reconsider lay-offs and look to cut other expenses in the budget before laying-off low-wage workers.
Walking in the march were workers such as Barbara Bastardo, a janitor at Harvard Medical School and mother of three boys. A single mother, Bastardo works the morning shift in order to take care of her children after school.
March organizers emphasized that many, like Bastardo, depend on their jobs for health insurance and to pay bills, and that the impending lay-offs are a massive concern.
Another marcher was Cecelia Johnson of Mattapan, who has worked as a security officer for over 20 years. Only within the last several years has she had union support. She says the union brought her better pay and benefits and she wants to do her part so others don't have to go decades without such help, as she did.
"The union is the best thing that ever happened to us," Johnson said. "People should help fight because they need that."
Another marcher was Yahya Bajinka, an immigrant from Gambia in West Africa who works at Logan Airport. Bajinka's presence at the march was to support 32BJ SEIU's efforts at a picket at Logan Airport that happened after the march in Cambridge.
Bajinka works part time at Logan Airport for $8 an hour and with no benefits. "Workers are forced into sweatshop-like conditions," Bajinka said. "Logan takes advantage of the fact that many immigrants are in need of work and they use that to exploit us.
"We have no job security and are in fear of losing our jobs at any time," he added. "My family in Gambia relies on me to survive. I send them hundreds of dollars a month along with paying bills for myself. It is not easy."