Shifting demographics erode Cambridge pols' voter base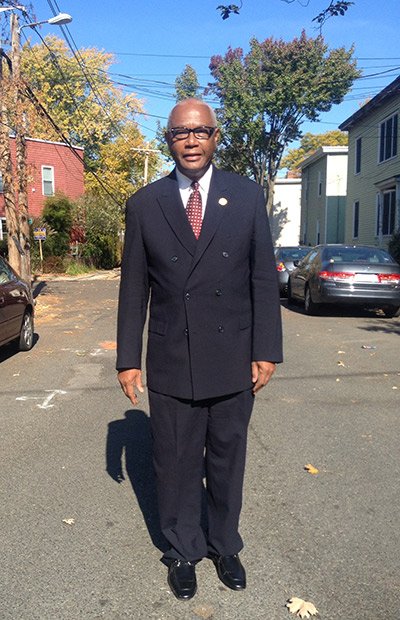 As Cambridge City Councilor Kenneth E. Reeves walks down tree-lined Howard Street in the heart of the historically black neighborhood known as "The Coast," he points out newly refurbished three-deckers and single-family homes where the occupants are strangers.
"Over 20 years ago, when I first ran for office, I knew most everyone on this street," says the former mayor and veteran councilor. "The core of my support came from neighborhoods like this. I was surrounded by 60-year-old church ladies who have since gone on to nursing homes or the kingdom of heaven."
Scuffling through red and yellow leaves scattered on the narrow sidewalk, Reeves pauses in front of a garishly painted building that once was home to famed Boston boxer Sam Langford, a one-eyed black Nova Scotian who lost a 15-round decision to future heavyweight champion Jack Johnson in 1906.
"I have no idea who lives here now," says Reeves, waving a hand towards the electric yellow siding. "Patrick Ewing grew up around the corner on River Street. W.E.B. DuBois lived on Flagg Street when he studied at Harvard."
Reeves climbs the front stairs to knock on yet another door in a bid for a 13th two-year term on the council. "This neighborhood," he adds, "has changed."
While Reeves and fellow African-American incumbent E. Denise Simmons draw votes from mostly every Cambridge neighborhood in council elections, their base is the city's black community, which for over a century has been concentrated in the Riverside neighborhood, also known as "The Coast," roughly bordered by River Street, Massachusetts Avenue, the Harvard campus and the Charles River.
Victory for candidates of color doesn't necessarily depend on racial solidarity — witness Gov. Deval Patrick or President Barack Obama — but in down-ballot races, drawing support from ethnic fellow-travelers is the traditional route to success.
The gentrification of Cambridge, which accelerated after the abolition of rent control in 1994, has had a dramatic impact on black voting patterns in the city. The percentage of African-American residents in Cambridge declined by a modest 5 percent between 1990 and 2010 — from about 15 percent to 10 percent. However, many of the new African-American arrivals, replacing long-time black residents who departed to other precincts — heavenly or worldly — are no more likely than other young, more affluent professionals to vote in municipal elections.
Candidates like Reeves and Simmons — and Cambridge School Committee member Richard Harding — could once depend on getting the bulk of their coveted number one votes in the quirky system of proportional representation from the city's black base, but now must depend on transfer votes to win.
Compounding the challenge this year is that more and more candidates — 25 are vying for nine council seats — are chasing fewer and fewer reliable voters, who tend to be older and more set in their choice of who receives their number one vote. According to election results, the average age of a Cambridge voter who has turned out in the last three election cycles is 59.