Examining the beauty and harmony of Islamic artist Shirin Neshat
Susan Saccoccia | 10/30/2013, 1:37 p.m.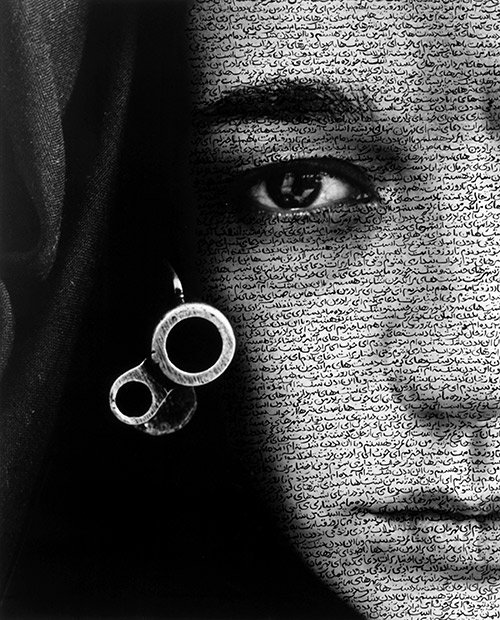 Perhaps the biggest boundary that Neshat yearns to cross is the distance between herself and her homeland. Art provides a medium to bridge this gap.
"I've lived here longer than in my own country," says Neshat. "I would not have become an artist if I did not live here, with my longing to reconnect with Iran."

While Neshat directs others to photograph the scenes she stages, she painstakingly handwrites the delicate lines of Persian calligraphy that overlay the faces in her portraits.
"I apply ink with a brush or for smaller words, with a pen," says Neshat. "It's easy to ruin a photograph. Managing the brush is like painting, a slowly acquired skill. Over the years, I've become more refined at it."
Neshat finds calligraphy a satisfying but strenuous process. "Writing is meditative and solitary," says Neshat. "But it can be frustrating too, in its repetitiveness."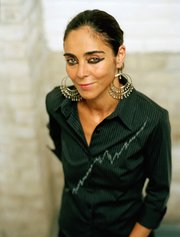 Films and videos offer her a more dynamic way of working. "I can collaborate with others on a larger scale," says Neshat, "and draw the viewer into an experience with music and acting as well as visual images."
Neshat was awarded the 2009 Silver Lion at the Venice Film Festival for her adaptation of Iranian author Shahrnush Parsipur's 1979 novel, "Women Without Men," which follows five women as they emerge from oppressed lives.
Neshat's new photographic series, "The Book of Kings," borrows its name from the epic poem of Iran, the Shahnameh. The ensemble of 80 portraits casts contemporary Iranians as nation builders. Men and women appear side by side as equals in an evolving society. "Their world is already very different than a decade ago," says Neshat. "The population is better educated, and 80 to 90 percent of Iranian women are working."
Drawn to portraying "determined and heroic women" of the Islamic world, Neshat has begun her next feature film, a biography of the legendary Egyptian singer Om Kolthoum (1898-1975). The daughter of an imam in a village mosque, she became one of the most revered Arabic singers in history. Millions lined the streets to witness her funeral procession.
"My desire is to tell the story of an artist with power," says Neshat. "Unlike the western model of singers like Billy Holiday and Edith Piaf whose careers ended in self-destruction, she was powerful to the end of her life."