Black pols endorse Marty Walsh for Boston mayor, John Connolly gets clergy nod
Yawu Miller | 10/23/2013, 11:05 a.m.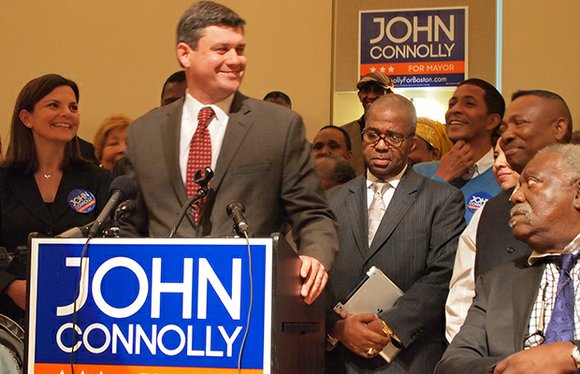 "John is not a union man, but he is a good man," Borders continued. "And we need a good man."
Political observers say Mayor Thomas Menino has put his weight behind Connolly as well, unleashing a small tide of black city workers into the Connolly camp. And after Walsh promised he would dismantle the Boston Redevelopment Authority, the Connolly camp picked up black and Latino BRA officials as well.
Menino's alleged support reportedly has extended to his key fundraisers, opening up a flood of campaign cash for Connolly, who took in more than $600,000 in the first half of October.
Connolly has also picked up endorsements from several prominent black business owners, including Dunkin' Donuts franchise owner Clayton Turnbull, restaurateur and real estate developer Darryl Settles and food services provider Glynn Lloyd.
Much of the media focus over the weekend was on a campaign mailing from a political action committee called Working America that characterized Connolly as a "son of privilege" who attended elite prep schools and became a corporate lawyer before running for the City Council seat he now holds, while emphasizing Walsh's working class upbringing.
Both Connolly and Walsh denounced the mailer as negative campaigning.
Connolly supporters at his Hibernian Hall event said Walsh's personal story of triumph over cancer and redemption from alcohol addiction doesn't resonate.
"This neighborhood is looking for a mayor who can lead this neighborhood from struggle to success," Turnbull told the gathering.
Connolly's apparent lead among endorsements from black clergy is not rock solid. Many men of the cloth were apparently put off by his calls for former School Superintendent Carolyn Johnson to step down last year, after it was disclosed that she failed to discipline a headmaster after learning he faced criminal charges for assaulting his wife.
Several pastors, including Jeffrey Brown and Gregory Groover are with Walsh. Others, including Ray Hammond, whose church hosted a rally of support for Johnson, are on the sidelines in this race.
Monday, Walsh also picked up an endorsement from U.S. Rep. Michael Capuano, whose 8th Congressional District includes Roxbury, parts of Dorchester and Mattapan.
At Hibernian Hall on Monday, Connolly pledged to work with those who backed his rivals if elected mayor.
"I'm going to work with everyone," he told the gathering at Hibernian Hall. "I've worked with every elected official in this city."