Ayanna Pressley keeps focus on families, schools
Yawu Miller | 10/23/2013, 11:11 a.m.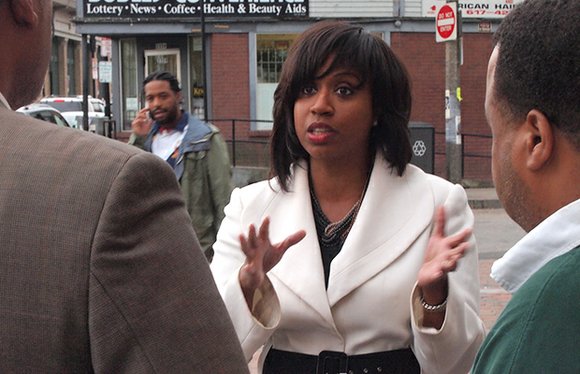 "There were people who thought I was crazy," she says. "People see this as a political third rail. It makes people uncomfortable. But I believe there's a real need for this."
One of her boldest political moves — revealing her status as a survivor of sexual abuse — underscores what she says is a strong commitment to combatting all forms of violence.
"I really challenged this community, this city, to have this conversation," she says. "If you want to end violence, you have to understand that all violence is interconnected. If you talk to young people involved in gangs, most of them grew up in households where they witnessed their mothers being victims of violence."
Last year, Pressley sponsored a community meeting called "Raise Your Voice" for women who were victims of sexual violence.
"We connected people to services," she says. "We had husbands come and say, 'My wife is a survivor of sexual violence. How can I support her?'"
While policy makers in Boston have focused heavily on law enforcement and gang intervention to combat gun violence, Pressley says she wants to inject a more holistic approach into the public discourse.
"We have to end all forms of violence — sexual, domestic and street violence," she comments. "We will never have peace in our streets until we end violence in our homes."
While Pressley presses for large-scale changes in public policy, she is also looking at small-scale changes.
At Boston Medical Center, families of murder victims were routinely dismissed almost immediately after learning of their loss. Pressley worked with a coalition of anti-violence activists to persuade BMC staff to create a bereavement room where families can be connected to services.
"You have to make sure people are getting psychological first aid," she says.
While Pressley's focus on families and children is threaded through all her work on the council, it doesn't seem to limit what she does. She currently is pushing liquor license reform, with a home rule petition that would remove the state's cap on the number of liquor licenses municipalities can issue to restaurants.
Pressley says expanding the number of liquor licenses would make it easier for restaurants in neighborhoods like Roxbury to succeed, since the profit margin on drinks is much greater than what restaurants make off of selling food.
"You can't have a stable neighborhood without restaurants," she says. "It's great we have people coming to Dudley to work. We have to get them to stay here after work."
Currently, the supply of liquor licenses is heavily restricted and licenses cost restaurateurs more than $200,000 to acquire. In the North End there are 99 liquor licenses. In Roxbury there are just 26, and 17 of those are for liquor stores. In Mattapan there are only nine.
Out on the sidewalk in front of the Citizen's Bank in Dudley Square, Pressley wraps up her conversation with a small gathering of outreach workers, community activists and passersby, answering one last question: Why doesn't she have an office in the community, the way former Councilor Chuck Turner had?
Pressley explains the difference between being a district councilor, representing just one neighborhood, and an at-large councilor, representing the whole city. She talks about the challenges of serving all neighborhoods and not appearing to favor one over any other.
"You can come to City Hall any time," she adds. "It's the people's house. But I'm really about meeting people in the neighborhoods."
She exchanges cards with several of her audience members before taking her leave. As she walks away, Michael James Christian professes a new appreciation for Pressley.
"She's one of the few you actually see walking around the community, asking people their opinions" he says.