Mass. activists weigh in on anti-gun legislation
Yawu Miller | 10/16/2013, 12:01 p.m.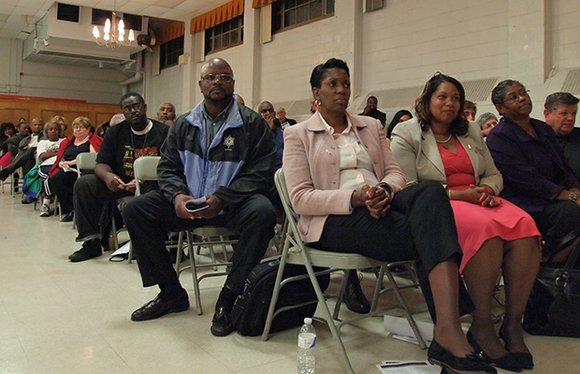 Addressing this crisis will require a comprehensive strategy that tackles these issues on multiple levels."
Suffolk University associate professor Erica Gebo stressed the importance of inter-agency collaboration.
"We need to mandate that police work with the community and with social workers," she said.
More than 200 people attended the meeting last week. Speakers talked about causes of gun violence and possible solutions from varied perspectives. Attendees included State Reps. Gloria Fox of Roxbury and Liz Malia, the Mental Health and Substance Abuse Committee chairwoman, whose district includes parts of Jamaica Plain, Roslindale, Roxbury and Dorchester.
Boston University professor Mike Segal said he has begun researching gun violence as a public health epidemic, but has been unable to secure funding for research.
"There is no federal funding for gun research," he said.
With limited time and funds, he was able to study the correlation between gun-ownership rates and gun-related homicides.
"We found a one-to-one ratio between the percentage of people who own guns and the firearm homicide rates," he said. "For every 1 percent increase in gun ownership, there's a 1 percent increase in firearm mortality."
During the meeting, Sanchez circulated a fact sheet on House Bill 47 along with a comment sheet so participants could weigh in on the bill.
"We have to work together to stop this epidemic," he said. "We can do this through public health prevention programs and education, through collaboration and communication."