Mass. activists weigh in on anti-gun legislation
Yawu Miller | 10/16/2013, 12:01 p.m.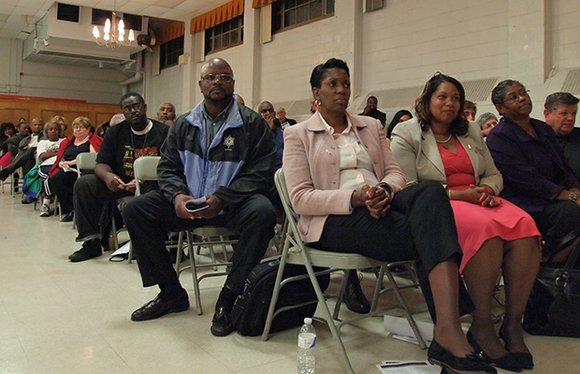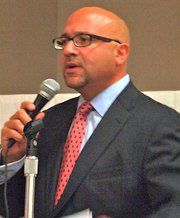 After Kim Odom's son was shot and killed on Oct. 4, 2007, there were two questions that lingered.
"Who did it and why," she said. "I wanted to know the root cause. What brought a person to the point in their life where they could take a life."
Then came another question: "Where did the gun that took my child's life come from?"
Odom found some answers: the identity of the 17-year-old boy who shot and killed her son and that of the other 17-year-old who supplied him with the gun.
And she learned about the so-called "iron pipeline" of gun dealers in states with lax gun laws like New Hampshire, Maine, Vermont and Georgia and the buyers who bring them to Massachusetts and sell them illegally.
Her exploration of the reasons behind her son's shooting led her to a disturbing conclusion.
"There's no one answer," she said. "It's not one thing or another. It's all of the above."
Last week, Odom and dozens of other anti-violence activists came together for a community meeting to discuss strategies to stem the tide of gun violence. The meeting, convened by state Rep. Jeffrey Sanchez, was aimed at informing the public about proposed legislation to tighten Massachusetts gun laws.
House Bill 47, "An act to strengthen and enhance firearms laws in the Commonwealth," was filed by Gov. Deval Patrick and would create four new categories of gun offense, including "being a felon in possession of a firearm" and "commission of a violent misdemeanor while in possession of a firearm," with increased penalties for second-, third- and fourth-time offenders.
The bill also includes tighter regulations for legal gun ownership, including a provision to bar people under 21 years of age from purchasing a machine gun and a provision requiring dealers at gun shows to connect to the Massachusetts Instant Record Check System when conducting the sale of a firearm.
Suffolk County Sheriff Steve Tompkins said tougher gun laws alone will not stem the tide of gun violence.
"Massachusetts has some of the strongest gun control laws in the country," he said. "And yet gun-related crime continues spiraling upward in this state."
According to the Bureau of Alcohol, Tobacco and Firearms, Massachusetts has more guns from outside of the state used in the commission of crimes than any other state in the country. "It's like installing an expensive home security system, but leaving your doors and windows open," Tompkins said.
Others agreed.
Ruth Rollins, whose son was killed in 2007, emphasized how easy it is for buyers in the iron pipeline to purchase guns in New Hampshire, Maine and Vermont.
"There are a lot of dealers who say, 'Just give me the money and buy what you want,'" she said.
Sanchez acknowledged the limits of gun control laws, emphasizing the importance of approaching gun violence as a public health problem.
"Gun violence is not just a byproduct of gun ownership alone," he said. "Gun violence is a result of many factors including socio-economic, educational, behavioral and cultural issues.