Marty Walsh, John Connolly vie for endorsements from Black, Latino and Asian communities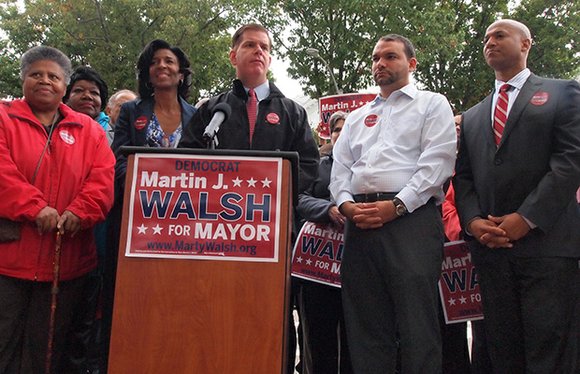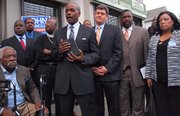 State Rep. Marty Walsh turned up the heat in the mayoral race, kicking off last week with a one-two punch — endorsements on Tuesday from former candidates Felix G. Arroyo and John Barros.
Walsh's salvo went unanswered. For one day. And from Connolly's perspective, it wasn't a bad move. With a schoolbus drivers' strike dominating the headlines, Walsh's endorsements were relegated to the back pages.
When the smoke cleared, Connolly began his fusillade of endorsements, Wednesday with Rep. Aaron Michelwitz, whose district includes the North End and Back Bay, City Councilor Sal LaMattina and Everett Sen. Sal DiDomenico, whose district includes East Boston and the North End East Boston.
On Thursday Connolly kept up the barrage of endorsements, first from a group that included members of the Mass. Association of Minority Law Enforcement Officers and Nation of Islam Minister Don Muhammad, then from a cadre of black ministers.
Finally, Walsh fired back Saturday morning with an endorsement from former mayoral candidate Charlotte Golar Richie, who was flanked by Barros, Arroyo, State Rep. Gloria Fox and former State Rep. Royal Bolling.
That same morning, Walsh was in Dudley Square to receive the endorsement of a coalition of community groups including Right to the City Vote, the Latino political organization ¿Oiste? and Chinese Progressive Political Action.
The mayoral candidates backing Walsh pledged to merge their campaigns with his, adding staff and office space to his operation.
"We started out with 12 campaigns," Walsh said during the Richie announcement. "We're ending up with one."
In addition to the mayoral campaigns, the activists in the Dudley Square endorsement also pledged to add muscle to Walsh's campaign.
"We look forward to integrating into the strategy and the organization of this campaign," said Mariama White-Hammond, a Dorchester resident and coalition organizer.
Walsh's endorsements may give his campaign a much-needed shot in the arm. Last week Walsh was trailing Connolly by eight points in a UMass Lowell poll of 375 likely voters.
And Walsh has taken hits for sponsoring a bill in the legislature that would remove the ability of the Boston City Council to overrule an arbitrator in the negotiation of public union contracts. Critics say Walsh's bill would remove a critical check on the power of public employee unions and could have a devastating impact on municipal finances.
Both Connolly and Walsh are contending for votes in the city's black, Latino and Asian communities, which are widely seen as critical to the success of any city-wide campaign. Voters in those communities went heavily for Golar Richie, Barros and Arroyo, as did many white liberals.
Whether those voters will follow their former candidates into the Walsh camp is an open question. Some prominent Richie backers have joined the Connolly campaign, including former Menino operatives Darryl Smith and Brook Woodson and business owners Clayton Turnbull and Brooke Gary Webster.
Several veteran political organizers were present for the Connolly endorsement Thursday, including Ed Cooper and Shirley Shillingford of the Caribbean American Political Action Committee.
Pastors present included Miniard Culpepper, William Dickerson and Thomas Cross. Bruce Wall, who was in New York during the endorsement press conference, sent a statement in support of Connolly's candidacy.