Boys thrive at Roxbury Latin as they prepare for college and beyond
10/11/2013, 6 a.m.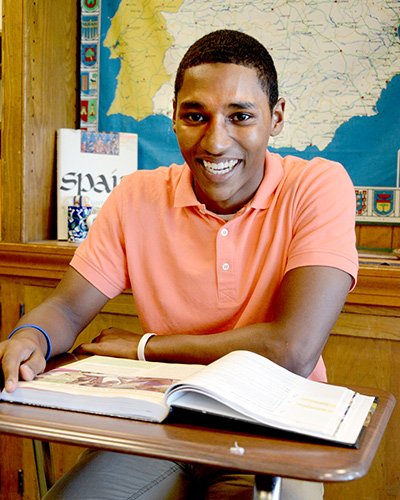 The Roxbury Latin School, located in West Roxbury (an easy 10-minute commute from Forest Hills), is a small school that strives to prepare its students not only for college, but also — more importantly — for life.
The school prides itself on a rigorous academic program that challenges boys to think deeply about the material they are studying. At the same time, boys are "known and loved" through formal structures such as an advisor system, but also through the intimacy of our community. There are fewer than 300 boys in grades 7-12.
There are also a number of extracurricular activities that expand and challenge the abilities of Roxbury Latin's students. We offer programs in sports, music, drama, community service, public speaking and debate, as well as a Model United Nations and student publications. Roxbury Latin boys possess richly diverse talents and do not confine themselves to only one or two extracurricular activities. They embrace the opportunity to pursue a wide range of offerings.
One boy, Tevin Barros of Dorchester, now beginning his senior year, has taken full advantage of the academic and extracurricular opportunities at Roxbury Latin. Since his arrival in the ninth grade, Tevin has been a strong student, taking a demanding course load and consistently earning honors grades.
Tevin is currently taking two AP courses (in Spanish and statistics). He has enjoyed his Spanish classes at Roxbury Latin most of all because, he says, "We don't sit in rows, listen to lectures, and take notes. We are always up, moving around, acting out skits and engaging in learning the language, culture and history."
Tevin admits that his academic success did not come easily.
"When I first arrived at Roxbury Latin, I was no longer able to get by just doing the bare minimum," he remembers. "My advisor was critical to my success. He helped me to establish good study habits, to use my time more wisely and to reach out for help from my teachers."
After growing acclimated to that new rigor and rising to the challenge, Tevin began to appreciate all that Roxbury Latin offered him.
"I slowly began to manage my time better and to recognize that my teachers are here to help me as a student and person," he says.
Tevin's passion for learning, cultivated at Roxbury Latin, will serve him well as he continues his studies. His aspiration is to follow in the footsteps of his older brother and sister and enroll at Boston College. Tevin has also recently become interested in smaller top New England colleges such as Bowdoin and Trinity.
Beyond the classroom, Tevin has been a star contributor in both the arts and athletics. He is currently one of four captains for the varsity football team, playing safety on defense and running back on offense. A member of the varsity basketball team last year, Tevin enjoyed helping his team make a run in the New England Class B Championship Tournament at the end of the season.
He his also a four-year member of the varsity track team, which has won two Independent School League championships and three New England titles in the last three years. Tevin's specialty is the high jump, and he placed in this event at both the ISL and New England Championships last year. He will serve as the captain of the team this spring.