Berklee College of Music clubhouses are music to the ears of Boston kids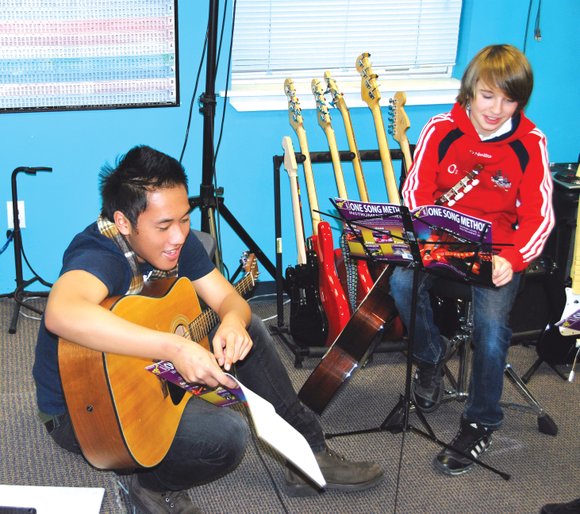 While Berklee gave resources and equipment to help set the clubhouse up the most important contribution the school makes is supplying students as staff to run the programs on a semester-by-semester basis. Mathis said there is one in-house staff member that works with the music program and a few interns, but the Boys and Girls Club relies on the two or three Berklee students that are there each semester.
The Music Clubhouse at the Boys and Girls Club of Dorchester is open Monday through Friday from 2 p.m. to 8:30 p.m. Typically there will be one hour of open music time then classes and group activities. Classes include guitar, piano, drums, bass and studio recording.
"[Berklee students] are very important to running a successful program," Mathis said. "The kids respond very well to the students and I believe it is because of their passion for music and it comes across."
Mathis pointed out that the Berklee students enjoy the experience as well and most return to work again beyond their initial semester-long commitment.
"That is because of the relationships that they build with students. …. It is almost like a little family and the relationships are meaningful," Mathis said. "Because they build meaningful relationships it helps in the development of the class.
"It is a fun environment and it is very engaging and the kids really like being here," she added.
Berklee's Smith said it is very important to bring the music to the kids in the communities where they live. "We find that a lot of students tend to not really go outside of their neighborhood for things. … In order to really expose them to those opportunities you have to meet them where they are."
Berklee also tries to bring music to the community as a whole through its concerts and performances around the city. Smith says the college will work with all community groups and nonprofits interested, usually free of charge.
"One of the things people often do is contact the office for entertainment but might not have the budget for it," Smith said. "We can identify volunteer performers or pay them."
Berklee will also donate blocks of tickets for on-campus performances to community organizations, including neighborhood associations and senior centers.
"For Berklee it offers a fresh new audience for the concerts that are going on. For the community it offers the opportunity to take advantage of great musicians free of charge that they otherwise might not have attended," Smith said.
Smith grew up in Roxbury, attending Boston Public Schools, then she went to Milton Academy and finally on to Berklee on a scholarship. She said she is happy to think her work with the school could help others in a way she was helped. "I felt that was a really opportunity to come back and work in the office that made it possible for me to attend Berklee," she added.
Smith studied voice and majored in music management while at Berklee. She also has a master's degree in education from Cambridge College. She is a singer, songwriter, performer and recording artist. She has written plays that have become staged productions, acted in theater and films, and published a book of poetry. Her most recent work, a book of poetry, is "Someday Soup."
"I actually have to pinch myself and ask myself, 'Am I actually being paid to do this?' I am grateful to have the opportunity to do what I am doing," Smith said. "Music is the thing that helped me grow and help me provide my voice. … It definitely feels good to help provide those opportunities to other students … and to give back in the community I grew up in."