John Connolly, Marty Walsh compete for support from blacks, Latinos in Boston mayor's race
Yawu Miller | 10/9/2013, 2:18 p.m.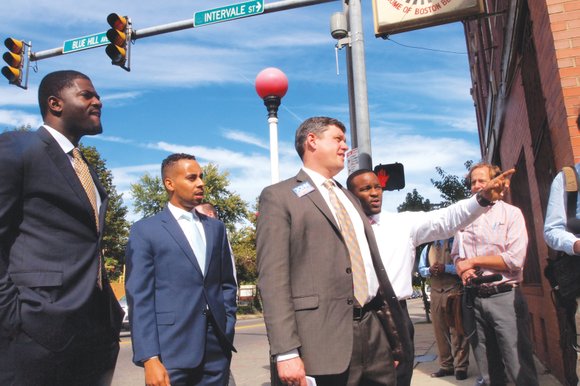 That evening, Walsh met with voters in one of his Mondays With Marty weekly convenings at the Reed Auditorium on Talbot Ave.
Last Thursday, Connolly made a tour of businesses in Grove Hall, covering Warren St. and Blue Hill Ave., discussing the challenges and opportunities facing entrepreneurs in the shipping district.
Outside a vacant building on Blue Hill Ave. Connolly listened intently as Dorchester resident Eric Brown complained about prostitution on the avenue.
"We want to crack down on the johns," Connolly said. "We want to work with the women to get them in a better situation."
He stopped in a pizza shop and offers to buy drinks for the gaggle of campaign volunteers and reporters trailing him. Outside on Warren St., he stops to talk to a Cambridge resident about the importance of including arts, music and physical education in students' school days.
"You get them half the year or only once a week," he says. "We have to change that."
Last Friday at the El Mundo Hispanic Heritage Breakfast, an event modeled loosely after the annual St. Patrick's Day roast, both candidates worked the room, delivered snappy one-liners and passed each other at the door, Connolly leaving while Walsh awaited his turn at the podium.
Both elicited laughs and cheers from the mostly Latino audience.
Saturday of last week, Connolly opened a campaign office on Washington St. near Martin Luther King Blvd.
At the end of his first full week of campaigning citywide, Walsh said he has gained a deeper understanding of the challenges facing Boston residents.
"I've know there's an issue of poverty and a gap between the rich and the poor," he said, "but it's bigger than anyone can imagine."