Roxbury Community College women's basketball scores on and off the court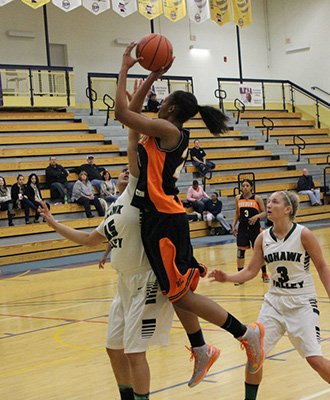 Lia Bass, 21, of Springfield came to RCC after taking a year off from school following high school graduation.

The criminal justice major has played basketball since childhood and said the sport has always been "a big deal" to her.
After not being able to play basketball directly after graduating high school, Lia said she appreciates having the opportunity to be a part of a team again.
"If I wasn't playing [basketball], I wouldn't be doing anything," Bass said. "It's kind of getting me into the habit of trying to work toward something."
Team captain Amanda Hoover, 19, echoed Bass' ideas about basketball producing good habits in other areas.
"It's been a learning experience. I've been taught to grow up and be more responsible," Hoover said.

Leszczyk describes his coaching as "old school," and he often places high demands on his students on and off the court.
Leszczyk's coaching style has paid off for Nicole Spaulding, who came to RCC from Poughkeepsie, N.Y., to improve her grades.
For Spaulding, playing under Leszczyk has created an environment that forces her to focus on academics.

"You want to play basketball so bad, but you have to do your academics first before you get to the athlete part," Spaulding said.
The payoff for Leszczyk as head coach is reflected in the progress that students like Spaulding, Bass and Hoover have made as members of the basketball program.
Almost every player has graduated from RCC with a basketball scholarship to a four-year college in the last four years, Leszczyk said.