Relocated to Maine, Somalis farm to support community
Laura McCandlish | 11/27/2013, 6 a.m.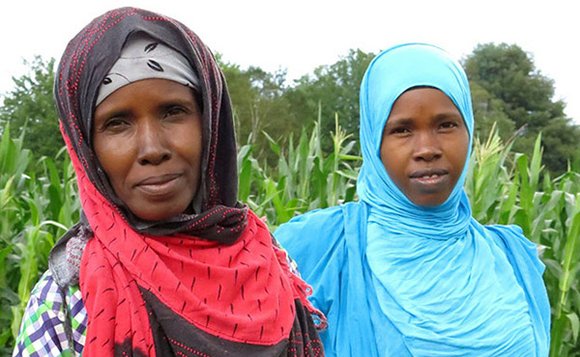 There's now a whole resettlement movement focused on agriculture, with scores of programs around the country since the U.S. Office of Refugee Resettlement started funding such efforts in 1998. In 2004, the USDA signed a joint memorandum to significantly fund these programs (though money for such beginning and socially-disadvantaged farmers lapsed when the Farm Bill expired last fall).
And in Maine, women such as Ismail — who, unlike men, lacked job options outside the home —were among the first to enlist.
Maine's New America Sustainable Agriculture Project, or NASAP, is a movement leader. Conceived in 2002, they have helped nearly 100 recent immigrants (primarily Somali Bantu but also South Sudanese, Guatemalan and Mexican) grow from community gardeners into managers of a 30-acre incubator on a land trust-protected, 400-acre family farm. The scope broadened in 2009, when NASAP merged with Portland youth gardening nonprofit Cultivating Community.
The farmers, who collaboratively market as Fresh Start Farms, sold more than $150,000 of produce this season to 300 CSA customers, at 20 Maine farmers' markets and to several restaurants. As the first group of farmers — nine of them, including Ismail — graduate from the program this fall, they'll still lease land together and receive technical and business support.
"It's really a great resource for people to be in a community of other farmers," says NASAP director Daniel Ungier. "We try to be aware of the fact that sustainable agriculture is moving towards 'interdependence.' We don't want to push them in the opposite direction by asking people to do it on their own."
A decade ago, no one could have anticipated the rock star treatment the farmers received at their recent graduation, which took place in a repurposed Portland church. The standing room-only crowd of 150 included young girls sporting jaunty headscarves, art school hipsters and graying retirees.
Cultivating Community was selling its new locally-designed "Beyond the Vegetable" cookbook, featuring photographer Amy Temple's vivid color portraits and recipes for farmer Hawa Ibrahim's stewed spinach and green beans, farmer Seynab Ali's sambusas and her son Hussein Muktar's collards with onions and tomatoes.
The Somali women hung back as one of their male compatriots took to the stage, telling his migration story through Muktar, the farm's translator, who mastered English attending school in the refugee camps. "We're so proud to be here," Muktar relays. "We couldn't have this opportunity without your support, and we appreciate it."
Agriculture in Maine is at a crossroads. Some 250,000 acres of farmland could change hands as aging farmers retire in the coming decade. The graduating class makes space for 50 new farmers at Cultivating Community. Many, including recent Congolese refugees, desire land to plant African crops such as amaranth leaves, spinach-like molokia and, especially, their beloved staple dried corn.
"There's so much energy and enthusiasm around local agriculture, but there's going to be a big change, too," Ungier said at the graduation. "We're so fortunate that we have a wave of people coming to Maine, with a history in farming, who really see farming as a way to make a home here and a way to give back to the place that's been able to welcome them."
New American Media