Trayvon Martin's attorney, mom visit Cambridge for forum
Shanice Maxwell | 11/25/2013, 2:28 p.m. | Updated on 11/25/2013, 2:28 p.m.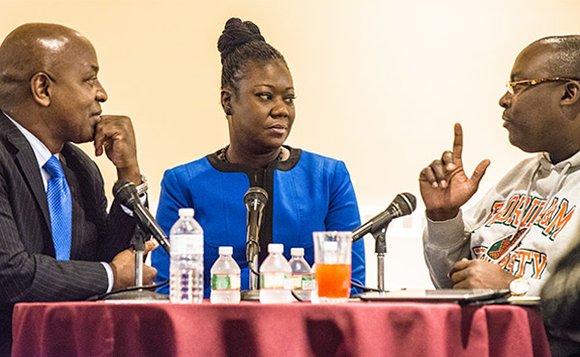 "What was Trayvon like?" asked one audience member to begin the Q&A segment. As all eyes turned to his mother Fulton, silence blanketed the room and her mostly solemn, painful expression changed to a warmer one. She had been mostly quiet but attentive as Parks entertained the legal questions. After describing Trayvon as a playful kid, her words: "He had to be close to me," resonated with the crowd. Her affable nature came out as she opened up, divulging information about Trayvon and the state of her family since the barrage of media attention has subsided.
"He was very playful and he liked to have a good time. He liked to listen to music, go to the mall, dress nice and he had started getting into colognes he wanted me to buy him," Fulton said. When asked what songs remind her of Trayvon, Fulton replied, "Two songs. One song that keeps me going is 'Encourage Yourself.' Then the song that I hear when I think about him is 'Ribbon in the Sky' by Stevie Wonder."
Other questions included:
How important is it for people of color to participate in jury duty and vote in all elections?
What can young people do so this doesn't happen again?
How is Trayvon's dad doing?
How can people utilize their local legislature to ignite change?
What are the do's and don't's for youth when interacting with law officials
How can members of the audience support the Martin family?
Those in attendance at the forum connected greatly with what was said.
"I just think for me and perhaps for many in the room, when they hear that song driving in their car or when they're in a store they will connect to Trayvon because he has to be part of moving all of us — every nationality, every color — forward. We have to get past this," said Andrea Gardiner, 52, of Cambridge.
"I took a bus for three hours to come … It was a great experience, I enjoyed it. I got to meet his mom and see her in person but to actually see the pain and at the same time the passion is inspiring to me," said Clinton McKinnis, 33, of New York.
To end, a video on the Trayvon Martin Foundation was shown as people offered monetary donations to support the effort created in Trayvon's honor.
"Trayvon will forever be before us. We can never let him go … Name streets, schools and places to eat after him. Don't let his life be in vain," said Ogletree.