Community Change Inc. celebrates 45 years of anti-racism work
Bridgit Brown | 11/21/2013, 6 a.m.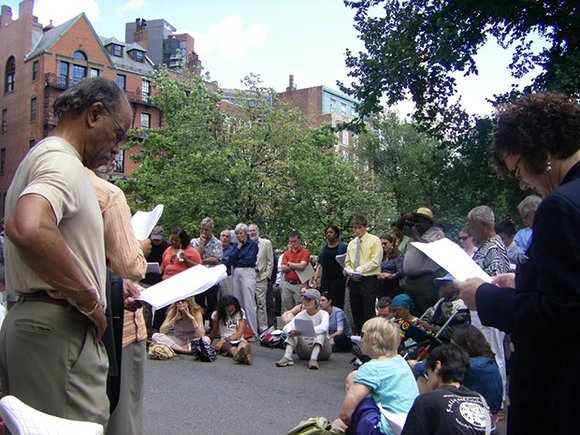 In 1968, race riots were spreading throughout America like wildfire and President Lyndon B. Johnson, in an effort to get to the root cause of the issue, established The National Advisory Commission on Civil Disorders. The commission, an 11-member committee that included the first African American elected U.S. Senator Edward Brooke, and Roy Wilkins of the national branch of the NAACP, published an unflinching examination of the problem in The Kerner Commission Report, which revealed that the cause of the rioting was structural and institutional racism.
Many disagreed with the report's assertion that riotous behavior was linked to the bigger social issues, like the lack of economic opportunities for blacks, but its conclusion, that "Our nation is moving toward two societies, one black, one white — separate and unequal," was evident to one person gravely considering back then what he could do to bridge the chasm.
Horace Seldon, white, privileged, and in his mid-40s at the time began noticing how his own identity was the main conduit for the growing divide between black and white. And the more he became aware of his privilege, the more he began to get involved in race issues. Instead of going into black communities and offering solutions to the issues, he listened, made himself of service by taking notes, made phone calls, marched on the sidelines, and through such humble service Community Change Inc. was established.
That was 45 years ago. Since then Community Change has become an effective center of anti-racism activity in Boston through its education programs and organizing work around issues related to systematic racism and racial inequity. Hundreds of people have benefitted from its workshops, which aim to address and challenge what it calls "The White Problem," or the structure that gives unearned credit to white people at the expense of people of color.
Community Change also organizes, among other things, the annual communal reading of Frederick Douglass' speech, "What, to the Slave, is the Fourth of July?" For the past five years, just before Independence Day, scores of people gather on the Boston Common, near the statue of the 54th Regiment to read the speech aloud and reflect on its significance.
This Friday, Community Change will reflect on its 45 year-old history with "Looking Back … Moving Forward," which will honor anti-racist writer Tim Wise with the Drylongso Leadership Award for Challenging Structural Racism through his unsparing critiques of white American culture. Kelley Bates, founding executive director of the Elma Lewis Center for Civic Engagement, Learning, and Research at Emerson College, and Keith Motley, chancellor of UMass Boston, will also receive the Drylongso Award, which is named after an old African American term meaning "same old" or "everyday."
Horace Seldon, who celebrates his 90th birthday this week, is still very much the same as he was back in 1968, still active in the struggle. "Looking Back… Moving Forward," will recognize Seldon for his lifetime's work of active and effective community change.
"Looking Back… Moving Forward" will take place from 6 p.m. to 9 p.m. on Nov. 22 at the Campus Center Ballroom, located at the University of Massachusetts, Boston.