Dudley Square entrepreneurs seek retail opportunities in Ferdinand building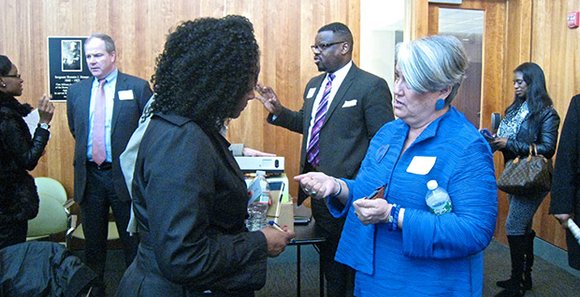 Since the massive public project was announced in 2011, city officials and residents have expressed hope the building would bring added economic activity to Dudley Square and create a lively atmosphere extending into the evening hours. A 2012 retail survey of 1,300 respondents confirmed that local residents want social gathering places, from a sit-down restaurant to sports bar, bowling alley, ice cream shop or cafe with seating and Internet access. Other desired businesses included dry cleaner, clothing outlet store, bookstore and gym or yoga studio.
The city isn't ruling out national chain stores, Gordon said, but officials have been "very clear" that they do not want the building to be "full of chain stores." On the other hand, those are the businesses most likely to be able to survive the start-up process and succeed.
"We'd love to see some key tenants that are local businesses, minority businesses — that would be great — and maybe there will be some nationals sprinkled in," he said. "What it won't be is 100 percent nationals that push the locals out."
The Request for Proposal (RFP) should be available on Dec. 3 for pickup at the city's Property and Construction Management office at 26 Court Street.
Randi Lathrop, the BRA's director of business development, said a bidders conference Dec. 12 will provide an opportunity for people to ask questions after they've looked at the RFP. Tours will be offered, giving those who hope to operate a business in the heart of Dudley Square a glimpse of the new space from the inside.
For more information on location and time for RFP pickup and bidders conference, check for updates on the project website, www.dudleyvision.org. For more information on small business and loan assistance, contact the Department of Neighborhood Development's Office of Business Development at 617-635-0293 or view a list of resources at www.cityofboston.gov/dnd/obd.
A number of small business advisory and loan assistance organizations were on hand at the workshops to talk with attendees about preparing a strong proposal and securing the necessary capital.
On her way out Jeanette Boswell, the would-be bakery owner, said the workshop made her more hopeful about her prospects. "I had no idea there would be all these people to help with loans," she said, clutching an armload of brochures and business cards. "Now I have to get busy."