Dudley Square entrepreneurs seek retail opportunities in Ferdinand building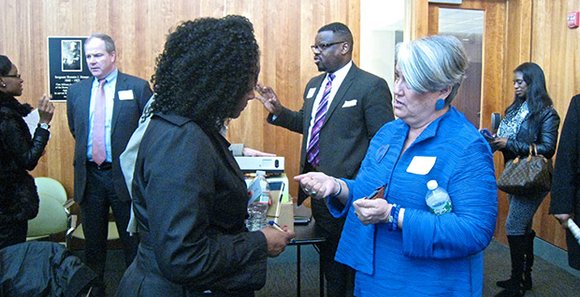 The Dudley Municipal Center rising on the long-neglected Ferdinand site is already having a dramatic effect on the Dudley Square skyline. When the building opens in 2015 as the new Boston Public Schools headquarters, a new streetscape will also emerge, as retail and restaurant tenants set up shop in 18,500 square feet of first-floor retail space.
The Boston Redevelopment Authority is about to issue a Request for Proposals for six retail/restaurant spaces in the new building. Anyone hoping to hang a shingle on one of the storefronts has until Feb. 3 to prepare a proposal laying out the business concept, preliminary design, proposed rent and financing plan.
Jeanette Boswell of Dorchester runs a cleaning business now, but hopes to open a bakery in the new building. Kristen Belton Willis, a Roxbury artist and art teacher, would like to run some carts or kiosks in or around the building to sell the multicultural rag dolls she makes.
Both were at a recent city-hosted workshop held Nov. 6 at the Area B-2 Police Station in Dudley Square to educate interested people about the Request for Proposal process and potential sources of business assistance and financing.
Hair stylist Kyra Hunter met virgin hair company owner Rená Graham at the city's earlier workshop in October, and the two are now considering a subdivided space for their compatible businesses. They returned on Nov. 6 to soak up more information. Some 80 people from Boston neighborhoods and beyond attended the two retail workshops.
Project consultant Chris Gordon presented information on the available space and the RFP process.
A large "anchor" space lies in the iconic point of the old Ferdinand Building, with windows facing Warren and Washington Streets. "It's a big space, it's got great visibility," Gordon said. At 7,800 square feet, officials said a sit-down restaurant could hold 200–250 people.
Smaller spaces range from 1,800 to 2,300 square feet and could possibly be combined or subdivided. Some will connect to the building's interior lobby area as well as to the street. Gordon mentioned as example uses bakery, newsstand, hair salon, dry cleaner, or another cafe or restaurant.
Submitted proposals must indicate the amount of rent the applicant is willing to pay, Gordon said, though the selection committee will not automatically favor the highest bidders; other factors will be taken into account. Besides some evidence of a viable financial plan, selection criteria include whether the business fits the mix the community has asked for, is likely to succeed, and is not incompatible with a public building (for instance, no strip joints or liquor stores). Submitted proposals should also include prior business experience and track record.
"Don't be worried if you've never done this before," said Gordon. "Just tell us what experience you do bring to the table and why you think you can do this."
No one can say yet exactly what the going rent will be. As a rule of thumb, Gordon said recent market rent estimates indicate $20 per square foot annually, which amounts to a monthly rent of $3,000 for an 1,800-square-foot store. He reminded business hopefuls that they need to factor in start-up expenses of building out, decorating and furnishing their space.