Boston schools debut new assignment plan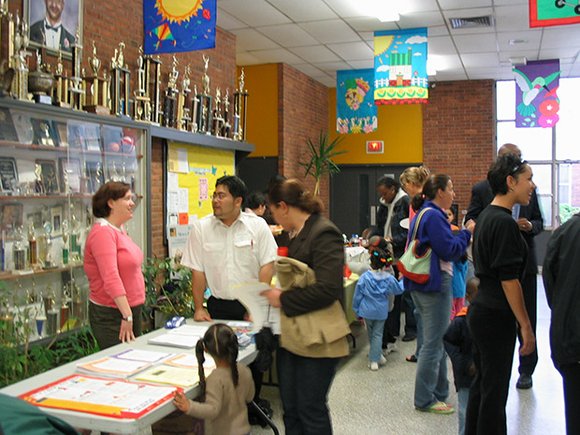 Martin Desmarais
Last weekend, parents visited public schools, talked to teachers and received information to help them decide what school is best for them as part of the Boston Public School department's new school assignment policy.
The citywide school showcase, new to BPS, was the first of five such events planned over the next few months.
For almost 25 years, Boston schools have showcased their options at one central event at which families and students came to see information and talk to administrators and teachers from different schools — but didn't actually visit the schools themselves.
According to Denise Snyder, BPS senior director in the Office of Welcome Services, having families and students visit schools across the city is more reflective of the improved school choice program that is now in place for the 2014-2015 school year.
Since 1989, the school department has used a three-zone assignment system for students to enter new schools for kindergarten, sixth grade and ninth grade. Now, BPS has launched what it is calling a home-based program, which eliminates the three-zones and focuses on customized lists for families based on quality and location. All families now have to use the DiscoverBPS website (www.discoverbps.org) to select from a list of school that are generated for them based on information they put in.
"The plan really provides opportunity for families to have opportunities much closer to home than they used to," Snyder said. "It is a completely revamped school choice system from previous years."
Snyder said the effort comes from Mayor Thomas Menino's charge to BPS to reduce the distance many students have to travel to school. According to BPS estimates, the home-based plan is expected to cut the average distance students travel to school by 40 percent. The hope is also that it will give families access to better information about the schools they are interested in and increase the chances of students attending school at one of their top choices.
The DiscoverBPS website has something called a "fit bar" that is designed to improve the match between students and schools, Snyder points out. "They can use that tool to not just look at their list but to also read about each school," she said. "They will be able to look at the fit bar and see how much they are looking for is at an individual school."
While school officials have high hopes for the redesigned website and the requirement that all students register through it, Snyder emphasized the most important thing is for parents to visit schools.
"Families have the opportunity to get to know a little bit about schools from the website and they should take that list and go out and visit. We really, really need families to visit schools," Snyder said. "You can't [get to know a school] by sitting at home reading your computer or a piece of paper."
The school showcase event this past weekend focused on K-8 schools. Because all high schools are still citywide options for students, BPS will continue to have a showcase for all the high schools at one location on one day. This year, that event will be at Madison Park High School on Dec. 5 from 6 p.m. to 8 p.m. As in past years, principals, teachers and other staff members will be in attendance at this event to answer questions and discuss what the different high schools offer.