Paul Taylor Dance Co. leaves Shubert Theatre audience spellbound
Susan Saccoccia | 11/15/2013, 6 a.m.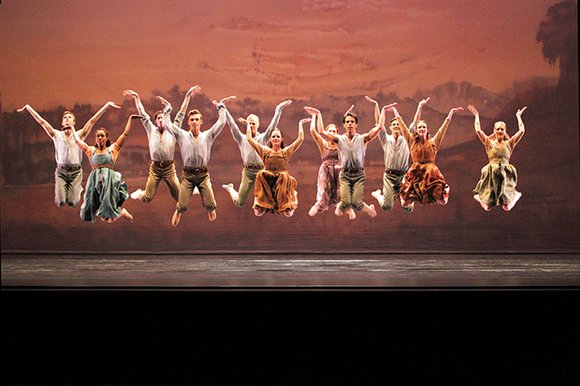 Like two happy hoboes, Michael Apuzzo and Michael Novak dance a high-kicking music hall-style number to "Underneath the Arches." George Smallwood, in sailor's garb, smoothly partners with glamorous Laura Halzack for a euphoric duet to "There's No Depression in Love." Then, the ensemble returns and rotating like a human merry-go-round, the dancers end the song in a giddy high.

Backed by a silhouette of skyscrapers, Michelle Fleet and James Samson project defiant glamour as they glide to the swinging "Slummin' on Park Avenue." The mood darkens a bit despite the high energy and fantastic footwork of Kristi Tornga's solo to "Sittin' on a Rubbish Can." Dancing to this song of desperate loneliness, she plays the part of a pregnant girl.
Taylor's pull-no-punches choreography conveys pain and brutality, as well as beauty and joy. The suite takes an even grittier turn with the song "Are You Making Any Money?" Large-boned Robert Kleinendorst, outfitted like a dandy and brandishing a foot-long cigar, leads his trio of prostitutes, Eran Bugge, Aileen Roehl, and Heather McGinley, who convey reluctant submission with their bodies. At one point, he climbs on their backs.
Left behind by the group, McGinley performs a solo to "The Boulevard of Broken Dreams," venting anguish through her long arms and legs.
Playing the part of a newsboy who dreams of vanquishing the Depression, Jamie RaeWalker bursts with bravado in her propulsive solo to the jaunty tune, "I Went Hunting and the Big Bad Wolf Was Dead."
Handsome and athletic, Michael Trusnovec dances the role of a World War I veteran who proudly worked on building projects but now cannot earn a living. His solo elevates the Depression anthem "Brother Can You Spare a Dime?" into a timeless poem of striving and yet hitting bottom. Leaping against a backdrop of stars, he endows his destitute character with a hero's dignity.