Women top vote-getters in Boston at-large city council election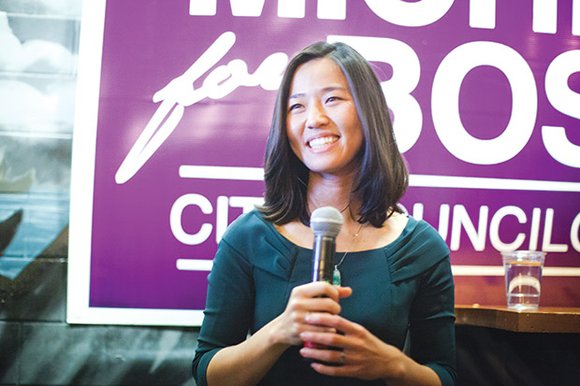 Looking at the votes tallied by Pressley and Wu, Rao cautions thinking that they received more votes just because more women came out to vote for women candidates. While she admits there may be some element of that in the recent city council election, she believes it is more likely that the diversity of the candidates attracted more ethnic voters and voters from communities of color.
"They are inspiring a whole new demographic of voters to come out," Rao said.
In addition, Rao points to how close former Boston Public Schools principal Suzanne Lee came to unseating incumbent Bill Linehan, who has represented District 2 on the council since 2007, in the city council elections as another sign of the changing voter tide. Lee lost by fewer than 1,000 votes and her campaign charged forward against Linehan for the second election in a row riding a surge of support for better representation of an increasingly diverse Boston.
And Rao said it is not just about Pressley, Wu and Lee being women and candidates of color — their success is also about their message resonating with the voters.
For an organization that is dedicated to increasing the participation of women in the political process, the women's caucus is thrilled to now have Wu as a shining example of the possibility of public office.
"The greater message of her success is that it shows it is possible for a young woman, like Michelle, to get in early and be successful," Rao said. "We need to encourage more women to run. The success Michelle had with her campaign is a sign to other women it can be done."
Speaking to gathered supporters on her election night, Wu acknowledged how thrilled she was to be soon working alongside Pressley and the other veteran and newly elected city councilors.
She also acknowledged the efforts of her campaign to gather the diverse elements of Boston together in support of her bid for office.
"I am very proud of the coalition that we put together over the course of the campaign across the entire city. The immigrant communities, the community of color, flavor, the LGBT community, parks advocates, tech startups, parents, teachers, small business owners, students — it has been an incredible outpouring of support in every single neighborhood across the city and I have so much hope for the future of Boston, just based on this incredible coalition we pulled together and the work that we are going to do together," she said.
Wu also stressed that she intends to continue to consider all of Boston's different communities with her work in City Hall and spoke of her vision of the future of the city that is based on "opportunity and access for every single person, every single family."
Wu told the Banner about the notion that the runaway success of two women of color in the at-large city council race was a reflection of the changing face of the city's voters.
"Voters are looking for new energy and ideas that include all of Boston. I'm excited to represent the entire city and all Boston residents — that includes the Asian American community but also wider communities of color, seniors, the disability community, immigrant communities, LGBT — all of Boston's diversity," Wu said. "I look forward to working hard in every neighborhood in the city to ensure that the voices of all residents are heard."
Pressley also warming welcomed Wu to the city council.
"I am thrilled Michelle Wu will be joining the council," Pressley said. "This is an exciting time for our city. I am humbled and grateful that residents have entrusted me with the awesome honor of representing them for a third term. Michelle will most certainly bring about a new perspective, one that will benefit the council and our city. I am really looking forward to having her as a partner in my continued work to stabilize all our families, to break cycles of poverty and to end violence in all forms."