Marty Walsh vote cut across Boston's race, class lines
Yawu Miller | 11/13/2013, 11:11 a.m.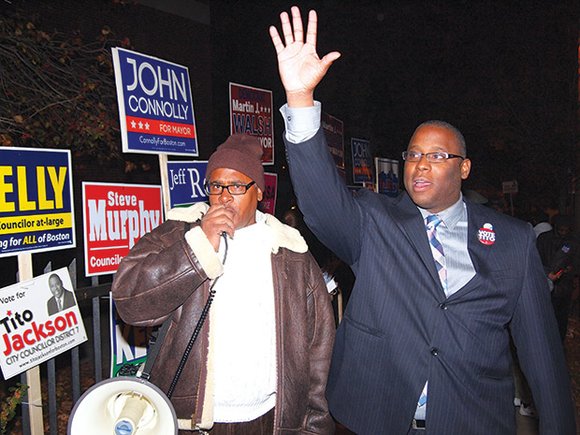 "All of Dorchester usually doesn't vote together," Day commented. "And usually JP doesn't split."
The end result of the class-based alliance was that Walsh was able to move the geographically confined base of support he relied on for his first-place finish in the preliminary west, capturing the city's predominantly black and Latino wards. While turnout in those wards was low for a mayoral race — ranging from 30 percent to 35 percent, both Walsh and Connolly mounted aggressive get-out-the-vote efforts to bring supporter to the polls.
Citywide, turnout averaged 38 percent.
With both candidates taking identical stands on issues including charter schools, diversity in city government and leveraging city resources to build more affordable housing, the choice for many voters may have come down to whether or not voters were comfortable with Walsh's 20-year background as a union leader, or whether they were swayed by attack ads, paid for by an AFL-CIO organization, painting the Harvard-educated Connolly as an elitist.
Another factor in the predominantly black, Latino and Asian communities may have been the endorsements of black elected officials, all of which went to Walsh. Additionally, Walsh benefitted from the endorsements of formal rivals in the mayoral race, Felix G. Arroyo, John Barros and Charlotte Golar Richie.
But voter Linda Gibson, who works in a Boston hospital, said she made up her mind after watching a televised debate.
Observers said the three candidates actively campaigned for Walsh. Golar Richie and Arroyo worked out of campaign offices and marshaled volunteers to work for the Walsh campaign, phone-banking, door-knocking and offering Walsh supporters rides to the polls.
"Neither one really impressed me much," Gibson said in an interview outside the Lewis/Higginson School in Roxbury's Ward 12. "Out of the two, I liked Marty Walsh better. I got better vibes from him."
Now, as Walsh confronts the challenge of governing Boston, observers will be able to discern whether the new alliance of white and black voters has substance, according to Fletcher.
"The question that will emerge is to what extent will [Walsh] address race issues directly," he said. "The question is whether we'll see a progressive bloc that addresses equality."