Balancing the interests of unions, Boston's taxpayers
11/13/2013, 11:33 a.m.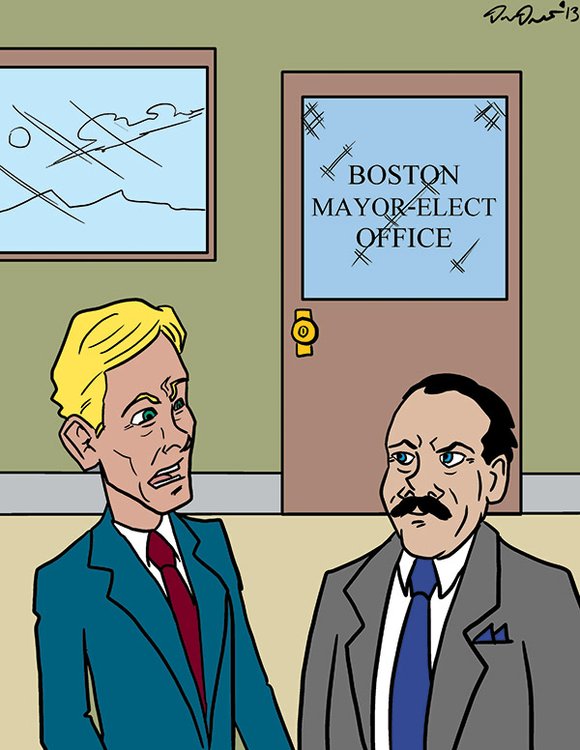 Now the real work begins. Both candidates conducted exhausting campaigns to be elected mayor of Boston. On Election Day, the voters expressed their preference, and Marty Walsh is the victor. The elation of victory will soon pass, as Walsh assumes the challenge of establishing a new vision for the city of Boston. Citizens of Boston will undoubtedly await impatiently for great improvements in the quality of their lives to be produced by the new mayor.
Ideas become prolific with the election of a new mayor. Everyone seems to have a solution to Boston's problems. Unfortunately, most proposals will require substantial budget commitments to implement. That is what concerns the frugal taxpayer. The financial collapse of numerous cities following the Great Recession suggests a fragility in urban finances.
Whoever thought that a city the size of Detroit would face bankruptcy with a debt of $18.5 billion? A number of smaller cities and towns, including nearby Central Falls, R.I., declared bankruptcy with less notice. Numerous municipal utilities have also become insolvent while attracting even less attention. But everyone thought major cities were immune.
There are several reasons for the financial difficulties. Prominent on the list of major expenses are salaries and benefits of public sector workers as well as pensions and health care costs of those who have retired. In recent years, public sector unions have been able to demand generous contracts for their members.
Union membership has grown in the public sector while it has dwindled in private industry. According to the Bureau of Labor Statistics, union membership in the public sector became greater than in private industry for the first time in 2009. A study by the Congressional Budget Office last year found that federal workers earn about 16 percent more for salary, pensions and health benefits than private sector workers in comparable professions. The CBO study concluded that an employee who is a high school graduate or less will earn about $4 more per hour working for the government than in private industry at a similar job.
The growth in private sector unions has resulted because they are effective. While only about 12.3 percent of the non-agricultural private work force is presently unionized, public sector union membership has soared, depending on the state. Roughly 70 percent of New York's state workers are unionized. The leading public sector union is AFSCME, the American Federation of State, County, and Municipal Employees.
In the past, politics prevented the growth of public sector unions. With every election the victor would replace the municipal or state employees with his own supporters. Then civil-service reform protected more and more jobs from the vicissitudes of election results. Job security created a class of professional public sector employees who could unionize to protect their status.
Today, the dynamic involvement of unions in politics has strengthened their clout in negotiations for salary and benefits for public sector employees. There is now a question as to who represents the interests of the taxpayers in union negotiations. That is the major question with mayor-elect Marty Walsh. His whole career has been involved with unionism. He stepped down as president of the Boston Metropolitan District Building Trades, a coalition of 35,000 workers in 16 trades, in order to run for mayor.
In the best democratic tradition, Bostonians will rally around Walsh to help develop an even stronger Boston. However, taxpayers are leery about being assessed to finance benefits for public employees that are unavailable to other citizens in private jobs.