Viet-AID honored for work improving Fields Corner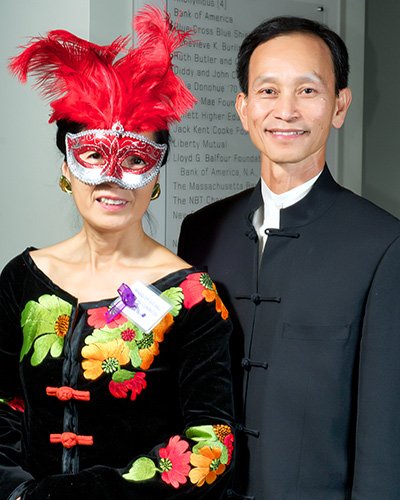 Viet-AID started with one staff member and now has 15 full-time staff employees, 30 part-time teachers for its education programs and about 100 volunteers, according to Pham.
"When people think of Dorchester they may not get a fuzzy feeling – we want to change that," Pham said. "We want to make it a nice place and a cultural hub and a business destination. We are still small, but even with our small organization we have still been able to make a difference and improve the neighborhood. The demand for our services keeps increasing."
Pham said Viet-AID's leaders were thrilled to be singled out by the Dorchester House and a 20-person delegation from the organization attended the gala last week to receive the honor. According to Pham, it is the first community award Viet-AID has received.
"We are very grateful and very humbled by the award," he said. "We just try to do our best to make Field Corners the best place for everybody. We are grateful for any recognition for our contribution to our community."
At its annual gala, the Dorchester House also honored Fair Foods and Mt. Washington Bank.
Fair Foods is a nonprofit organization that fights hunger in the area with food distribution services. According to the Dorchester House's Ramos, Fair Foods has distributed 63 million pounds.
Mt. Washington Bank, which first opened in Dorchester in 2002, has donated over $2 million to local community groups and was singled out for its philanthropic efforts, Ramos said.
While the Dorchester House opened in 1887 as a settlement house to serve low-income residents and immigrants in Fields Corner, the organization grew to open a community health center in the 1970s. Today the health center offers a wide range of services including primary care, oral care, eye care, OB/GYN care, physical therapy, substance abuse programs and social services.
According to Ramos, it is very important for the Dorchester House to work with other groups and organizations in the community, such as Viet-AID. For example, he said that many of the center's patients are Vietnamese and working with Viet-AID helps Dorchester House stay in touch with the community so all know the services it provides.
"I don't think any of us could exist without the other institutions in the neighborhood," Ramos said. "Each institution is another resource to help in the quality lives of people. To know that these institutions exist in the neighborhood is important to us."
Overall, Ramos was thrilled with the success of its annual gala and in particular the decision to honor other organizations and get them involved with the event.
"It went very well. We were very, very pleased. We had over 300 people that attended so it was one of our larger events," he said. "It made for a really wonderful evening."