SpeakEasy Stage Company's "In The Heights" presents vibrant portrayal of changing neighborhood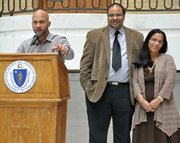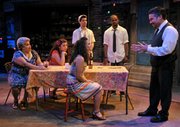 Diego Klock-Perez (center) plays Usnavi, bodega owner and street-corner poet, in the SpeakEasy Stage Company's production of "In the Heights." (Craig Bailey photos)
Vanessa, played by Alessandra Valea (center), is the main character's love interest in "In the Heights."
The cast of the SpeakEasy Stage Company's "In the Heights" production, which runs through June 30.
Lin-Manuel Miranda, the composer and lyricist of the hit musical "In the Heights," dreamed up the show as a college student. He envisioned a tribute to Washington Heights, an uptown Manhattan enclave populated by families from Puerto Rico and the Dominican Republic. Raised nearby, he wanted to portray this tightly knit neighborhood on the verge of change through the rhythms of rap, salsa and meringue.   
A decade later, Miranda starred in its Off-Broadway debut as well as its three-year Broadway run, a production that won four Tony Awards in 2008, including Best Musical.
SpeakEasy Stage Company is presenting a lively Boston premiere of "In the Heights" through June 30 in the Stanford Calderwood Pavilion at the Boston Center for the Arts.  
Although the characters created by playwright Quiara Alegria Hudes border on stereotypes, the actors bring heart and conviction to their roles. They conjure a circle of people whose lifelong ties to one another are about to either unravel or grow stronger over the course of three days.
Neighborhood stalwart Usnavi, the character originally played by Miranda, is the owner of a bodega and the poet of his graffiti-pocked street corner. He is also the shy admirer of Vanessa, who, like most of the characters in the play, inhabits two worlds — the neighborhood and a desired home elsewhere.
Usnavi's parents named him after the U.S. Navy ship they saw as they sailed into New York from the Dominican Republic, and he dreams of the island they left behind. Abuela Claudia, the neighborhood matriarch who raised Usnavi after his parents died, yearns for her native Cuba. Vanessa seeks to escape her addict mother by securing an apartment of her own in Greenwich Village. Her friend and former employer Daniela is closing her beauty salon and moving to the Bronx. Already starting a new life is Nina, the neighborhood's star progeny, back from her first year as a scholarship student at Stanford University.
SpeakEasy creative director Paul Daigneault helmed the production and enlisted a talented and energetic 18-member cast. He drew 11 of its singing and dancing actors from Boston Conservatory, where he teaches musical theater and directing.
Lighting by Karen Perlow heightens the story's varied moods and events — including a blackout and fireworks — and showcases Jenna McFarland Lord's versatile set, with its storefronts and tenements, stoops and space for the exuberant dance and fight scenes choreographed by Larry Sousa.
Sound designer Eric Norris transmits the crisp musicianship of the eight-member ensemble, conducted by music director Nicholas James Connell. However, on Wednesday evening, some actors' voices could have used stronger projection.