Thomas Flint, former trial court officer, seeks justice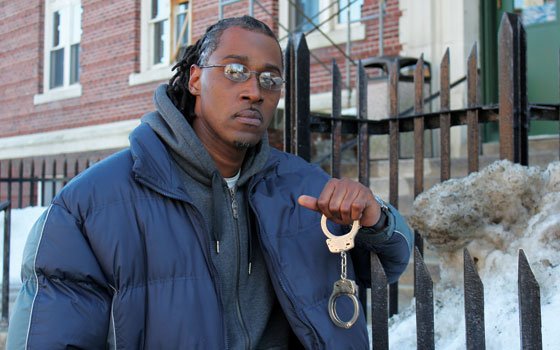 One thousand, two hundred and ninety-four days: That's how long it will have taken Thomas Flint to get justice.
Flint, 45, is a former court officer who, in 2009, was fired from the Massachusetts Trial Court for allegedly getting into a verbal altercation with another court officer. Suspecting racial discrimination, the 20-year veteran of the courts took his case to the Massachusetts Commission Against Discrimination, and in 2011, received a "probable cause" ruling backing his version of the story. Next month, starting June 3, Flint goes to a public hearing to determine a settlement against the Trial Court.
"In dealing with this struggle, days turned into months, and months turned into years of pain and tears," Flint says. "I relied on just knowing that one day the truth would get out there."
New evidence supports Flint's claims. In an April deposition, Thomas Connolly, director of security for the Trial Court, confirmed irregularities in Flint's firing and treatment on the job. When a white, junior court officer accused Flint of yelling at him and talking behind his back, their immediate superior, the regional assistant director of security, looked into the matter and deemed it a "personality conflict." Connolly, however, refused to drop the matter and set up a disciplinary hearing for Flint. But Connolly's investigation included no witnesses to the incident — even though there were several — ignoring Flint's request that they be heard. Instead, Connolly wholly accepted the junior court officer's version of the events; as he said in his deposition, "I found him at the hearing to be forthright and his mannerisms — I found him more credible." Then, Connolly fired Flint.
Even if Flint, an African American, is guilty of yelling at his colleague, his termination raises significant questions, since several white court officers were not let go after committing far more serious offenses. According to Connolly, one white court officer was arrested for possession of drugs and theft, but was allowed to retire. And when Michael Rubino, another white court officer, was charged with raping two female prisoners, he was put on administrative leave — suspension with pay — and was later suspended without pay until his case was resolved.
Connolly, who is white, claims that it wasn't just the one incident that led to Flint's termination, but that he looked into his entire work history to make this determination. However, at least 16 commendation letters from judges, jurors and attorneys praising Flint's professionalism, work ethic and character were missing from his personnel file — despite the Trial Court's policy that all such letters be included.
In one, a probation officer says she found herself in an "unsafe situation" with a client and asked Flint, who was on his lunch break, for help. "Albeit off-site and off-duty, CO Flint stayed with me and I appreciated it," she wrote to the Trial Court's Security Department. "It's nice to know the level of support and concern that I can count on from your department, your officers."
Other letters praise Flint for his "terrific services," "dedication to the Trial Court and the public," "professionalism and restraint" and "intelligent and prompt reactions" and call him  "an asset to the Court." Connolly had no response in his deposition to why these letters were excluded from Flint's file.