Alvin Ailey company soars at inspirational Boston show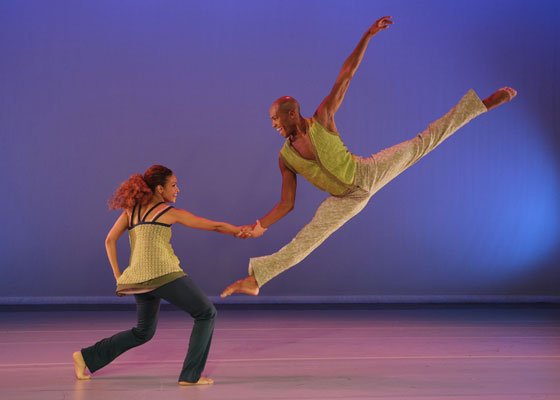 The work began in stealth, near the end of an intermission. Alone on stage in a black suit and white shirt, dancer Samuel Lee Roberts moved his legs in tiny ripples and twitches to barely audible '50s hits by mambo organist Pérez Prado. Soon an ensemble of 19 dancers joined him, also sporting black fedoras and black suits. They repeated and expanded his jerking motions into a cool, mesmerizing metronome pattern. After the duet, the ensemble returned and launched another hypnotic routine.
Raised on a kibbutz, Naharin seemed to find pleasure in contrasting the power of collective discipline with the joy of the unpredictable. The dancers enjoyed it, and so did the audience.
Next, the dancers streamed into the aisles and escorted audience members to the stage, where they joined them in duets. The last to leave was a middle-aged woman who deftly tangoed with her partner and appeared to be having the time of her life. When the dancers fell to the floor in unison, she did too, triggering a roar from the audience.
Such moments of shared joy between dancers and audience have been the stock in trade of the Alvin Ailey American Dance Theater since its start. Thursday evening, the company showed how its capacity to inspire is taking new forms.