Tougher gun laws needed to combat violence in Boston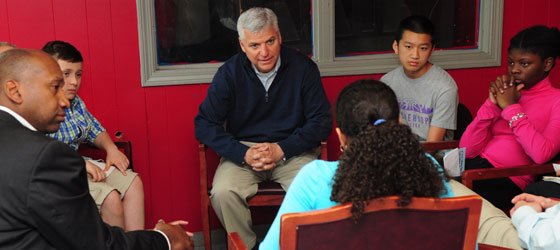 Suffolk County District Attorney Daniel F. Conley (center) meets with Boston Public Schools students, State Rep. Russell Holmes (left foreground) and John Rosenthal of Stop Handgun Violence (far left behind Holmes) at the Dorchester Youth Collaborative to discuss the teens' concerns. Four students wrote to Conley last week expressing a desire to meet with him and have a press conference on the issue of youth violence. (Photo courtesy of the Suffolk County District Attorney's office)
In response to letters from three students at the Harbor School in Dorchester, Suffolk County District Attorney Daniel F. Conley, a Boston mayoral candidate, shared his thoughts on preventing youth violence. The below is excerpted from Conley's speech last Saturday at the Dorchester Youth Collaborative in Fields Corner.
In any given year in Boston, more people are killed by illegal firearms than every other weapon combined. Over the past 11 years, 27 children age 16 or under have been killed in Boston by firearms in the wrong hands. That's a classroom of children lost to gun violence every decade.
Any sensible anti-violence strategy has to address the problem of illegal firearms and the people who use them. This is common sense. But as we saw in Washington last month, a too-powerful gun lobby, in league with enablers like Mitch McConnell, prevented even the most watered-down gun reform from passing the U.S. Senate.
As a result, we have to redouble our own efforts in Massachusetts. I've drafted "An Act to Combat Gun Violence," which tackles the secondary gun market and makes 26 changes to Massachusetts law to close loopholes and address flaws we see in court and on the street every day.
This bill isn't flashy, but it focuses laser-like on handgun violence. It makes critically important changes to our laws based on our own experience in our courtrooms and on our streets.
This legislation accomplishes many things that we are certain will help prevent guns from winding up in the wrong hands. For example, when the Legislature increased the penalty for illegally carrying firearms in 2006, it neglected to increase the penalty for illegally selling them.
And when it forbade felons from becoming licensed firearm dealers, it neglected to bar dealers from hiring felons. This bill would close both of those loopholes, providing a 2½-year minimum for unlawfully selling a firearm and forbidding felons from employment or volunteer positions with a licensed firearms dealer.
Massachusetts provides enhanced penalties for unlawful possession of a firearm as a second or subsequent offense, but that statute doesn't cover large capacity weapons, loaded weapons on the street, or unlicensed firearms in a home or place of business. This bill provides uniform coverage for all second or subsequent firearm possession offenses, and it makes clear that out-of-state gun convictions count as predicate offenses under those statutes.
Massachusetts law now imposes a minimum year and a half behind bars for carrying an illegal firearm on a public way. However, the same defendant, with the same record, possessing the same illegal firearm, loaded with the same ammunition, can get no time at all if that illegal weapon is recovered inside his home or place of business.