Matt Damon talks career, roots at Harvard ceremony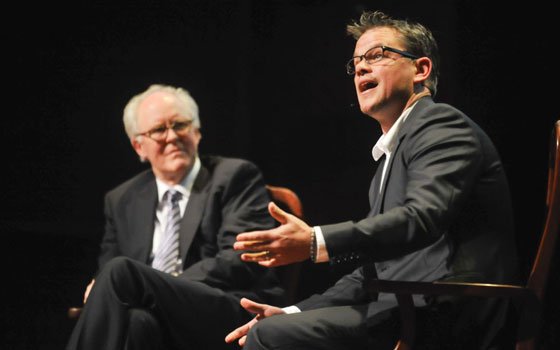 Lithgow asked Damon how he deals with movies that miss their mark at the box office or with critics. While admitting that such letdowns hurt, Damon said he sees novel projects as risks worth taking and spoke of his wife, Luciana Barroso, as a source of support and honest feedback.
When considering a role, Damon said he bases his decision on the director. "The director is the horse you bet on," said Damon. "You ride the horse all the way to the end."
Describing Damon as remarkably "self-possessed as a person" in a high-stress industry, Lithgow shifted the conversation from craft to life beyond movie sets. He asked Damon about his local roots.
"I'm a kid from Central Square, Cambridge," said Damon. "Before rent control ended, it was a mostly middle-class and working-class neighborhood. It was a wonderful place to grow up. But between MIT and Harvard, we couldn't help but feel a townie thing."
Damon noted that Ben Affleck's father was a janitor at Lowell House, where he lived as a Harvard student. Such town-gown experience informed "Good Will Hunting," whose protagonist is a brilliant young janitor at MIT.
Speaking of the Boston Marathon bombing, Damon said that, like everyone else, he was "still in shock and wondering what it all means." From childhood, Damon said, he has regarded the annual Patriot's Day Marathon as "sacrosanct — a life affirming day."
Lithgow asked Damon about his philanthropic endeavors, including water.org, the nonprofit he co-founded that enables hundreds of communities in Africa, South Asia and Central America to access safe drinking water. Without clean water, said Damon, "Every 20 seconds a child under 5 years old dies. That's three little kids a minute."  
After President Faust presented the medal, Damon stepped up to the podium and briefly addressed the audience. He told the college students, "You are influencers in the world. Hold onto your humanity as you go out into the world."