An emerging multi-ethnic majority
5/8/2013, 11:05 a.m.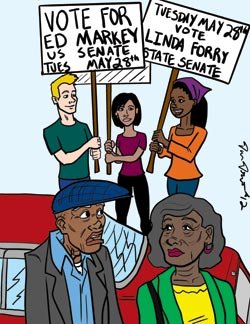 "Man, it looks like there have been  a lot of elections, but I look forward  to each and every one of them."
An emerging multi-ethnic majority

For generations, South Boston has been the seat of working-class Irish political power. The symbol of that hegemony has been control of the First Suffolk Senatorial District to which William Bulger was first elected in 1970.
However, South Boston has been changing in recent years. Hotels, office buildings, apartment complexes and upscale restaurants now adorn areas that were once part of a dilapidated waterfront. And Mayor Menino's designation of that section of Boston as "The Innovation Zone" will undoubtedly stimulate more development.
This shift in focus has induced many outsiders to move into the Fort Point Channel and the Seaport District areas, Precinct 1 of South Boston's Ward 6. With this population shift, Steve Lynch was able to defeat Ed Markey in Precinct 1 by only 53 percent of the vote. That is a narrow victory when one considers that Ward 6 is Lynch's home base and that the customary vote in other precincts was on the order of 87 percent.
It is interesting to note, however, that the solid Southie vote did not waver in the election for the First Suffolk Senate seat. Precinct 1 still came in a strong 79.7 percent for Southie candidates, Nick Collins and Maureen Dahill. The vote went up from there to 95.56 percent in Precinct 9.
In other sections of the district, the vote for Linda Dorcena Forry was equally lopsided. She tallied 95.9 percent of the vote in Ward 18, Precinct 2 in Mattapan. Were these lopsided votes in Southie and Mattapan merely a show of strong support for local favorites or did they have another significance?
When the polls closed the count was 10,214 for Forry, 9,836 for Collins and 1,593 for Dahill. Forry won by 375 votes. According to some observers, this race marked the end of a long era of ethnic politics. Collins said in his concession statement, "we broke through the geographic and ethnic boundaries that have symbolically and historically seemed to divide us…"
Republican candidates have never had a chance in this heavily democratic district. The results of the general election on May 28 with Democrat Forry facing Joseph Ureneck, a white Republican, will demonstrate whether the district has really crossed the racial divide.
A new challenge for Markey
When he expressed interest in running for John Kerry's open U.S. Senate seat, Rep. Edward Markey got substantial support from the Democratic Party establishment. With 36 years in Congress, Markey's political acumen on Capitol Hill had earned such an endorsement for him.
It was believed that Markey's only impediment was to defeat Rep. Stephen Lynch in the primary election. In the two-candidate race, Markey won 57.5 percent to Lynch's 42.5 percent, but there was an unexpected, complicating development. A Republican candidate, Gabriel Gomez, emerged as an exciting personality.