MIT honors late band leader Herb Pomeroy at moving memorial concert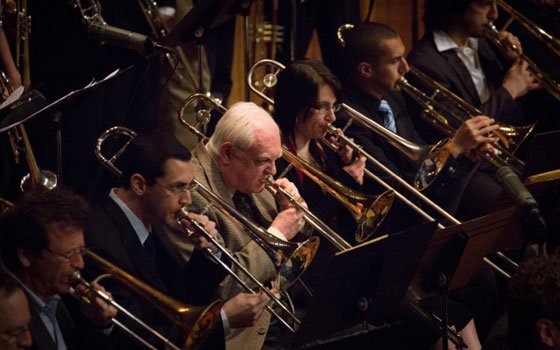 Harris spoke of "the three pillars" of jazz at MIT: Pomeroy, Everett Longstreth and Rev. Mark Harvey. Each has brought MIT a depth of relationships throughout the jazz world and within the Boston jazz community. Under their successive leadership, MIT's jazz programs have drawn a Who's Who roster of musicians as artists in residence and faculty.
The concert demonstrated the variety, reach and longevity of MIT's jazz activities as well as Pomeroy's influence.
Performers included the MIT Chamber Music Society Jazz Combo, a refined sextet coached by bassist Keala Kaumeheiwa through MIT's Affiliated Artist program.
Singing with warmth and a cappella precision, the 10-member MIT Vocal Jazz Ensemble rendered two Jerome Kern standards arranged by their founding director, MIT Institute Professor John Harbison — a renowned composer of symphonies, operas and large choral works. Before sharing the stage with the 31-member 2013 Alumni Band for a grand finale, the Festival Jazz Ensemble performed the evening's third world premiere, "In Search of the Master." Written by an Alumni Band trombonist, Richard Orr ('62), the swinging, flugelhorn-led composition celebrates Pomeroy's arrival at MIT.  
"Herb Pomeroy was a beautiful flugelhorn player," Harris said after the concert. "So that was a double hats off to him."