Morehouse president moves college ahead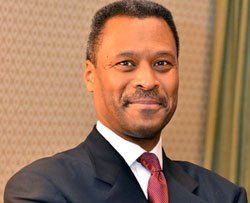 We're challenged at Morehouse with that same question, and because we have that question and because of a new president, we're going to zero in on helping to meet that challenge by being most creative and innovative as we think about how to ensure that the education that we provide remains of high quality but is more affordable.
So we're thinking of ways to take a hybrid approach. Our tuition is not as high as many others, but it is a challenge for many of our families. We're thinking about if some families have to stop, we don't want it to be a drop out but a 'stop out' while they need a little more time to build up some resources.
We're thinking about offering a subset of our courses online, and for free so that they could 'stop out' and take a break from paying tuition and being on campus.
What are some new initiatives taking place at Morehouse?
We're on a mission now to create, at Morehouse College, a cathedral, and we're going to be engaging a lot of people in the philanthropic market place with the creation of this cathedral — that being a world-class educational environment. We believe that we already have character preeminence.
We know how to produce smart people who are also good, and as evidence of that our most illustrious graduate, Martin Luther King, Jr., is now memorialized in granite on the National Mall. Of course we have a national holiday named for him as well. We want to produce more Martin Luther Kings, but we want to produce a Martin Luther King of biology, chemistry and of political science.
We just want to do more of that in various areas, so we believe we have the infrastructure for creating more tgame-changers for the world in various areas. What we don't have is, to put aside that character preeminence, is what I call "capital preeminence" and that's when you have a great endowment and you're able to pay your faculty at competitive rates.
We have a great physical structure and that all goes to the physical capital and the information capital and the academic capital. We just need a larger endowment and a larger flow of revenue into the institution. So the big idea is to build a cathedral and you don't have a cathedral unless you have both character and capital preeminence in the same place at the same time.
What are your thoughts on being president of Morehouse College at this particular time in history?
I'm beginning my presidency at Morehouse at a very auspicious time. It's the year 2013, and not only is it significant that we have a visit by the President of the United States this year, but also 2013 is the 150th anniversary of the Emancipation Proclamation, so you have a new kind of freedom in mind for Morehouse.
2013 is also the 100th anniversary of Morehouse being called Morehouse. It was changed from Atlanta Baptist College to Morehouse College in 1913, so being the 100th anniversary of being called Morehouse, we believe it's the ideal time to rethink and reconsider our institutional identity and to surge forward toward some new thinking about that.
Most people believe that W.E.B. Du Bois is the one who came up with the concept of the Talented Tenth, but that's not true. It was Henry Lyman Morehouse — after whom the college was named — who originated the idea of the Talented Tenth. We need to think about where we are vis-à-vis the Talented Tenth of African American males in this day and age.
As a new president starting out in 2013, it's an auspicious time, and I'm glad the President of the United States is going to visit this year — we are going to use this as a launch point for our quest to become a cathedral in American higher education.