Morehouse president moves college ahead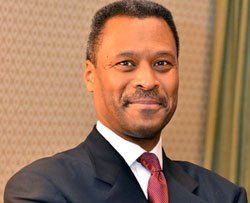 Dr. John Silvanus Wilson is no stranger to Boston. The Morehouse graduate came to Harvard and received a master's degree in theology, as well as master's degree and Ph.D. in administration, planning and social policy.
He then went on to serve as director of foundation relations and assistant provost at the Massachusetts Institute of Technology. It was not long before he was tapped by the Obama Administration to serve as White House director for Historically Black Colleges and Universities (HBCUs).
While in Boston this past weekend, Wilson attended the Morehouse Glee Club performance at the Old South Church on Friday and spoke at the Young Men's Leadership Conference on Saturday at the Joan Kroc Corp Community Center in Roxbury.
The conference was designed to encourage middle and high school boys to think seriously about college.
Dr. Wilson spoke about the dangers of ignorance in today's knowledge economy, and then he spoke to the Banner about the importance of HBCUs, funding challenges in higher education and his bold idea to make Morehouse a world-class educational environment.   
Why is it important to have a Morehouse, or any historically black college or university today?
Because you have black colleges, [that] does not mean that black colleges are exclusive. Black colleges were never segregated or never segregating institutions. You can't name an HBCU that has ever had a policy that said only blacks are allowed to be educated here. In fact, it was white institutions that had those policies and HBCUs were created as places where African Americans could be educated, but they have always had an open door for others — and that's really important to understand.  
In fact, many HBCUs have white and Hispanic students attending them now. For those who would question HBCUs in this time, there are two responses: one is, it is important to know that in the Obama Administration, we never wondered whether HBCUs should exist. HBCUs are doing a great job for America and producing graduates who are ready for the world.
The other response that I have about HBCUs and diversity in American higher education is very straightforward: HBCUs need to exist as an option in higher education just as much as a Brandeis University needs to exist as an option for those of the Jewish religion that wants to be educated in an environment that is more tailored for them than for others.
In the same way that Notre Dame needs to exist as an environment that is an option for those who want to be around a disproportionate number of Catholics; in the same way that Brigham Young University needs to exist for Mormons and the same way that Wellesley College needs to exist for women. There's a lot of diversity that is still in higher education and there are still, in America today, a lot of niche institutions that provide environments that are especially made for a subset of the population. And we believe firmly that that ought to be celebrated rather than criticized, because it makes America strong and it makes America unique.