Joi Gresham reflects on 'growing up Hansberry'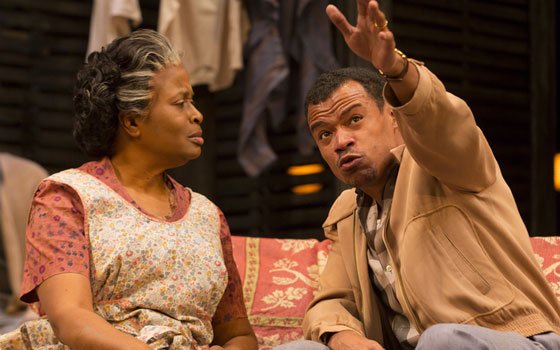 I did. I was 11 when my parents actually married in 1967. In 1969, my father compiled a work based on Lorraine's writings called "To Be Young, Gifted and Black". It was staged Off Broadway. After it was staged, it was prepared and put into a book. It's more of an autobiographical portrait of Lorraine's writings and scribblings, photographs and artwork. The book was dedicated to me and my cousin and Lorraine's cousin. I was 13 when the book came out and it was such a heady thing to happen to a 13-year-old. The spirit of "To Be Young, Gifted and Black" is about youth and the promise of that. I got that I was a part of this future she dreamed of.
With the Civil Rights Movement happening when you were growing up, how did that shape you?
Here's a little more about the environment that I grew up in. Lorraine died in 1965. She was one of the voices of the early Civil Rights Movement. There was a famous meeting held with Bobby Kennedy when he was Attorney General in 1962 or 1963. He [Kennedy] assembled a group of black leaders to really be briefed and educated about the Civil Rights force coming on. I believe one of the key people was James Baldwin and he immediately thought of Lorraine. Lena Horne was there, Harry Belafonte and some other people from SNCC (Student Nonviolent Coordinating Committee) and CORE (Congress Of Racial Equality). They were all there and were trying to do their best for someone who wanted to know but didn't really want to know about the fire and what was coming. She was a force of nature [at the meeting] and I wanted to be like Hansberry.
Was it a surprise to you to become executor of the estate when your mom passed?
I'm an only child and the expectation and the pressure of that expectation was pretty clear, pretty early on. And then I remember growing up and thinking about choices. My father made this choice and I didn't know if I would make that choice. I started thinking about what I would need to make that choice. I was trained as a choreographer. I was a performing artist from when I was a very young girl and I grew up studying dance and performing. I was guided to do that by my parents who sought out the best teachers and training for me. And, that was what I was going to do and that was true until my mother's death. I had a career as a college professor. I taught Arts education and African American studies. I performed and I choreographed. That was my life. I taught for about 25 years on the college level and I was looking for something different. I still wanted to be involved in theater and I needed to do something different. I came to the Boston area to teach at Lesley [College]. I thought about reentering the Hansberry world around the time of the "Raisin In the Sun" revival. [Her mother was responsible for the 2004 revival on Broadway with Phylicia Rashad, Sean "Diddy" Combs, Audra McDonald and Sanaa Lathan.]