Find the best foods to fight cancer in produce aisles
3/20/2013, 9:59 a.m.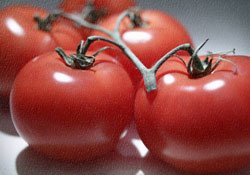 Phytonutrients like carotenoids are available in pill form, but Kennedy warns that they do not have the same protective properties as those found in whole foods and may even cause harm in certain individuals.
To get the healthiest boost, Kennedy says it is best to eat the food in its whole form. One of her favorites is a roasted vegetable salad.
4. Apples
Studies suggest that eating at least one apple a day can help prevent throat, mouth, colon, lung and possibly breast cancer. Besides being crisp, sweet and juicy, apples contain quercetin, a nutrient that protects the cell's DNA from damage that could lead to the development of cancer.
"It's best to choose organic, when possible, and eat them raw and with the skin on," says Kennedy. "That's where many of the nutrients are found."
5. Quinoa (keen-wah)
Although it may not be found in the produce aisle, quinoa is a great source of  protein. It's naturally gluten-free and often called an ancient grain because it's been grown for thousands of years. Quinoa is actually a seed that can be ground into flour.
It is considered a complete protein because it contains all nine essential amino acids. Quinoa is also rich in fiber and minerals like iron, magnesium and calcium, plus phytonutrients like quercetin.
Quinoa is a nice alternative to protein-rich foods like meat and fish. Other alternatives include lentils, beans, nuts, seeds, whole grains and dark green, leafy vegetables.
Angel Hair Pasta with Tomatoes and Avocado

Ingredients:
•    8 ounces uncooked angel hair pasta
•    2 tablespoons olive or vegetable oil
•    1/2 large avocado cut into cubes
•    4 medium tomatoes
•    Salt/pepper

Directions:
•    Cook and drain pasta as directed
•    In a 3-quart saucepan, over medium heat, heat oil with avocado and tomatoes.
•    Toss vegetables mixture and pasta. Sprinkle with salt/pepper or garlic to taste.


Yield: 6 servings
Recipe courtesy of Dana-Farber cancer institute.