Melnea Cass widening project raises resident questions, concerns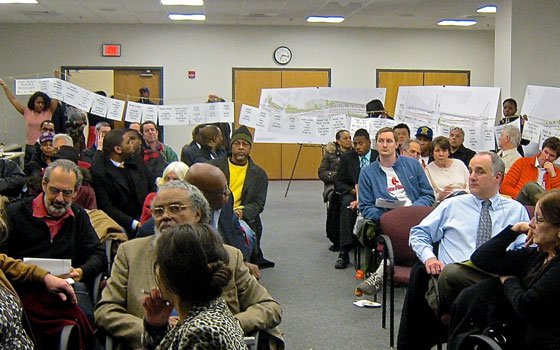 He also noted that new developments in the works at Melnea Cass and Washington Street — including a hotel, ground-floor retail shops, offices, residences and a new, expanded Tropical Foods store — will add life to the area. New on-street parking options and more things to see and do will encourage people to stop, and should help to calm traffic flow.
"We've engaged one of the best traffic engineering firms in the nation," he said. Efficient signal timing, improved crosswalks and the "pedestrian refuge" provided by the center median, he said, will make the street safer and better despite a wider crossing.
Besides Jackson and Fox, elected officials present at the meeting included state Rep. Byron Rushing, state Sen. Sonia Chang-Diaz, and staff members from the offices of At-Large City Councilor Felix Arroyo and U.S. Rep. Michael Capuano.
The next public meeting for the project is not yet scheduled. One upcoming step is a hearing with the Massachusetts Department of Transportation (MassDOT) sometime this summer, Hoey said. Design development will continue beyond that, and construction is expected to start in 2014 or 2015. For more information — including links to the RSMP, the Urban Ring plan, area development proposals, and meeting minutes and slides — see the project website: www.cityofboston.gov/transportation/melnea.
Also in Roxbury, Hoey is directing a BTD project to redesign traffic flow around Dudley Square. The second public meeting for that project was held on March 11. Attendees viewed several possible plans for streamlining bus and car traffic, making pedestrian crossings safer and adding more bicycling options and car alternatives such as Zipcar. Breakout sessions brought impassioned debate on the plans and a call for the city to create a comprehensive parking plan for the area. For more information on the Dudley Square project, see http://bostoncompletestreets.org/topics/whats-new.